* Illinois Policy Institute…
Illinois' public sector employees are some of the highest paid in the nation and earn wages up to 60% higher than their private sector counterparts.
As you might imagine, there are some red flags with this study. They don't show their statistical model and they don't control for union membership, for example.
* And this is from Appendix A…
Using the American Community Survey (ACS), we restrict our sample to white males, heads of households, prime-working age (25-55) only.
I asked Frank Manzo IV from the Illinois Economic Policy Institute how many state and local government employees were white males between the ages of 25 and 55 during the time period studied. The answer is 22 percent…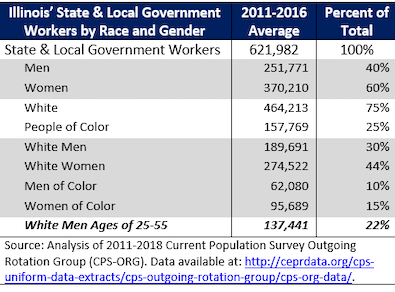 …Adding… From Dr. Orphe Divounguy…
"All academics restrict their sample sizes to omit as much bias as possible from their analysis.

"As we say in the body of the paper, we don't just analyze white households: 'The analysis compares only employed, male heads of households from the ages of 25-55 in order to remove wage disparities resulting from gender, school enrollment or semi-retirement.' We have over 1.4 million observations for 50 states and 63,800 in Illinois that are male, 25-55, reporting to be heads of households. With the use of sampling weights, that represents 32.3 million U.S. male heads of household and 1.4 million Illinois male heads of household.

"The model used is referred to as an Oaxaca-Blinder decomposition. We refer to it in the appendix and cite the papers that first introduced it. It decomposes log hourly wages into the effect of observable factors such as age, age squared, educational attainment, marital status … all factors that explain wage differences between two groups — and the rest — the wage gap that remains unexplained by observables.

"As for the second part of the paper, the model is fully detailed in the appendix. We control for demographics with year fixed effects. The methodology comes from Behar and Mok who have published a similar paper with the International Monetary Fund looking at whether public employment crowds out private employment in developing countries. We also find that labor market freedom improves labor market outcomes. Another paper published this year => here shows the same relationship: labor freedom is associated with lower unemployment rates."
39 Comments




















































































































Sorry, comments for this post are now closed.