* Sandoval succeeded in extending the story with yet another statement. Tribune…
State Sen. Martin Sandoval on Monday blamed a vendor hired to provide music and entertainment at a Friday fundraiser for photos posted online showing a man pointing a fake gun used as a novelty beverage dispenser at someone wearing a mask depicting President Donald Trump.

"I had absolutely no knowledge that this regrettable exchange between one of my 1,200 guests and a third-party vendor even took place," the Chicago Democrat said in a statement. "Those individuals involved exhibited extremely poor judgment." […]

The person wearing the Trump mask was from Harvey-based Party District Entertainment, which has provided entertainment at previous Sandoval fundraisers. Sandoval's campaign fund has paid the company $7,700 since 2017. The company provides costumed characters, DJs and other services for parties and events. The "gun" in the photos was a novelty beverage dispenser.

"This offensive use of a beverage dispenser was in no way part of any scheduled program," Sandoval said in his Monday statement. "I had no knowledge of it and neither did my staff. I want to again express my deepest regret that this unfortunate incident took place at (an) event in my name."
Just because they ask a question doesn't mean you have to answer it, Marty.
Also, the "beverage dispenser" in question is a tequila gun.
* Sun-Times…
The photos even got the attention of Kellyanne Conway, counselor to the president, who tweeted, "Every Democrat should be asked if they support or disavow this."

And the U.S. Secret Service on Monday told the Chicago Sun-Times they are "aware" of the incident. Tim Gilroy, assistant to the special agent-in-charge of the Chicago office, said he could not comment on whether an investigation was underway, "but I can tell you that the Secret Service investigates all threats against the president, and we take them all very seriously." […]

After a barrage of questions from reporters, Sandoval released a second statement on Monday — expressing "regret" but no apology.

"As a matter of clarification, I had absolutely no knowledge that this regrettable exchange between one of my 1,200 guests and a third-party vendor even took place. Those individuals involved exhibited extremely poor judgement," the statement said.
* Fox News…
House Minority Whip Steve Scalise asked what it would take for liberals to denounce violence against conservatives after a Democratic state senator from Illinois came under fire last weekend over pictures showing his supporters at a fundraising event taking part in a mock assassination of President Trump. […]

"I am glad he took ownership, and said he was wrong," Scalise said.
* Another party pic to give you an idea of how wild that event can get…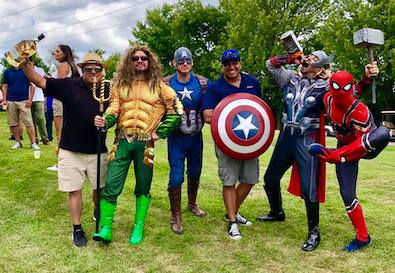 32 Comments































































































Sorry, comments for this post are now closed.