* Gov. Pritzker's deputy press secretary…
Another bill @GovRauner vetoed will be signed into law by @GovPritzker. A few others:

✔️ $40k teacher salary
✔️ Voting in jails
✔️ About a dozen protecting immigrants
✔️ LGBTQ workplace protections
✔️ No salary history
✔️ Tobacco 21
✔️ $15 minimum wage
✔️ Gun dealer licensing

— Alex Hanns (@alexhanns) August 22, 2019
That isn't a complete list.
…Adding… Another one…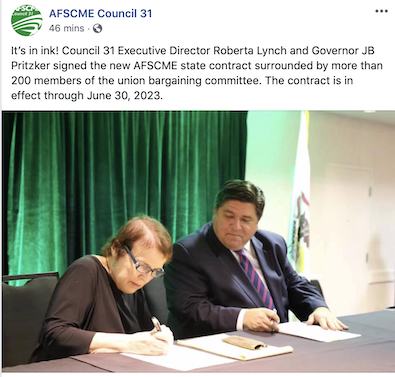 * From Sen. Manar…
Teachers will see an increase to their minimum salary under a new law sponsored by State Sen. Andy Manar (D-Bunker Hill) and signed by Gov. JB Pritzker.

"We're facing a severe teacher shortage in Illinois and increasing their salaries is just one way we can attract and retain qualified teachers in this state," Manar said. "We need to start taking this problem seriously and this legislation is a good step toward solving it."

House Bill 2078 will increase the minimum salary for teachers to $40,000 over a four year period.

Illinois had not updated its minimum teacher salary since 1980. Since that time, state statute has mandated that that Illinois school districts pay teachers with a bachelor's degree a minimum of only $10,000.

"This is a long-needed change and I'm glad to see that both sides of the aisle came forward to support this legislation," Manar said. "We're showing that we value teachers in Illinois and that's going to go a long way toward attracting qualified teachers in Illinois and convincing young people to consider a career in education."

Under the measure, the state would update the minimum mandated salary for teachers annually over four years, beginning with the 2020-2021 school year. After that, subject to review by the General Assembly, it would be increased according to the Consumer Price Index. The phase-in would look like this under the proposal:

· $32,076 for the 2020-2021 school year;
· $34,576 for the 2021-2022 school year;
· $37,076 for the 2022-2023 school year; and
· $40,000 for the 2023-2024 school year;

The measure will go into effect January 1, 2020.
41 Comments


























































































































Sorry, comments for this post are now closed.