* We discussed this yesterday after Hannah Meisel broke the story. Here's the Tribune's take…
A former assistant director of the Illinois Department of Veterans' Affairs made "sexually-oriented comments" and used "inappropriate and highly offensive race-based language" while on the job, according to a recently released report from the Office of Executive Inspector General.

The investigation that led to those findings was underway in May 2018 when Harry Sawyer resigned from his post at the state VA. The inspector general found that Sawyer's sexually inappropriate comments did not rise to the level of violating state ethics laws.

Sawyer, of Lombard, a Navy veteran and 36-year state employee, was briefly in line to head the Department of Veterans' Affairs after then-Director Erica Jeffries turned in her resignation amid the fallout over the agency's handling of a deadly outbreak of Legionnaire's disease at a veterans home in Quincy in western Illinois.

Instead, Sawyer, who earned $98,543 annually as assistant director, resigned the same day Jeffries left office, May 18, 2018. He now collects an annual state pension of $58,358.64.
As we discussed yesterday, Director Jeffries knew of the probe into Sawyer when she announced he'd be taking over for her.
But that's not all.
* A reader pointed me to the October, 2018 IDVA newsletter…
IDVA Assistant Director Sawyer retired this past summer after 33 years of service to our Illinois Veterans. He joined IDVA in 1982 as a VSO and worked over three decades assisting our Illinois Heroes and family members. As a young man, Harry enlisted in the U.S. Navy and served aboard the USS Agerholm (DD 826), including a tour off the coast of Vietnam. Completing his enlistment in 1970, he received an honorable discharge and returned to Illinois where he worked as a florist until 1979, when he began assisting his fellow veterans as a service offi- cer with the Veterans of Foreign Wars. Sawyer is a member of the American Legion, the Veterans of Foreign Wars, and other organizations. Thank you, Harry, for your service and your leadership here at IDVA.
And the accompanying photograph of a retirement ceremony held for Sawyer after he was reportedly allowed to resign rather than be fired…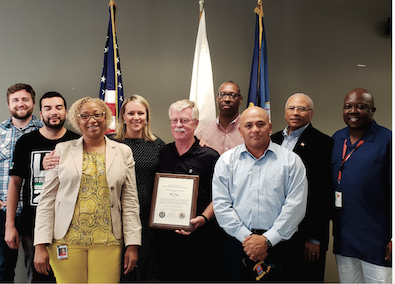 * I asked IDVA's spokesperson these three questions at noon today…
1) Why did IDVA hold a retirement ceremony for Harry Sawyer after he quit instead of being forced to resign?

2) Why did IDVA then include a photo of that ceremony in its October, 2018 newsletter?

3) Why did IDVA general counsel/ethics officer Pennix and deputy general counsel Eddington attend that ceremony?
This is what they sent me a few minutes ago…
Harry Sawyer's comments were completely inappropriate, violating both the Illinois Department of Veterans' Affairs handbook and the State of Illinois code of personal conduct. The IDVA is working with the new administration to ensure a safe and respectful work environment so that it can focus on its top priority: Providing our veteran heroes with the highest quality care and services.
So illuminating.
Sheesh.
4 Comments











Sorry, comments for this post are now closed.