* DCCC…
The DCCC today launched a new ad campaign in Illinois' 6th District highlighting Jeanne Ives' lockstep support for President Trump and his reckless agenda that would keep dangerous guns on our streets, eliminate a woman's right to choose, and discriminate against the LGBTQ community.

As a firebrand conservative, Ives is out of touch with voters in the 6th District, refusing to support commonsense measures to keep dangerous guns out of the hands of criminals, opposing a woman's right to choose, and discriminating against same-sex couples.

"Conservative politician Jeanne Ives supports President Trump 100% and is wildly to the right of the 6th District," said DCCC spokesperson Mike Gwin. "From backing President Trump on opposing a woman's right to choose, to rejecting commonsense gun safety laws, and discriminating against the LGBTQ community, we're going to make sure voters in the 6th District know that Jeanne Ives is just too conservative for Illinois."

The ad begins running today, targeting moderate and conservative voters in the 6th District, and will run on digital platforms including Facebook.
* Evelyn Sanguinetti press release…
Today, the Chicago Sun-Times published a story explaining how Nancy Pelosi, Sean Casten and the Democratic Congressional Campaign Committee are spending money to help Evelyn Sanguinetti's primary opponent so they don't have to face the stronger Sanguinetti in the general election.

Word out of DC is Sanguinetti beats Casten in a head-to-head informed ballot by more than 5%. DCCC will do anything they can to avoid Evelyn - even buy ads to support her primary opponent. Jeanne Ives is the Democrats' favorite Republican in this race because she is wholly unelectable in the general election, and would force other Republican candidates around the country to answer for the outlandish things she has said.
* Sun-Times…
Kathleen Murphy, an Ives spokesman, told the Sun-Times, that the DCCC is "sorely miscalculating what this race is going to be, then. Nothing we've seen indicates that Jeanne would be easier to beat than Evelyn Sanguinetti. That would be a serious miscalculation on their part." […]

The DCCC ad is taking a cue from the Democratic Governors Association playbook. Before the March 2018 Illinois primary, the DGA ran an ad highlighting Ives' conservative credentials in an attempt to defeat Rauner, who won with 51 percent of the vote.
* The ad links to a Sun-Times column about how Ives is unelectable…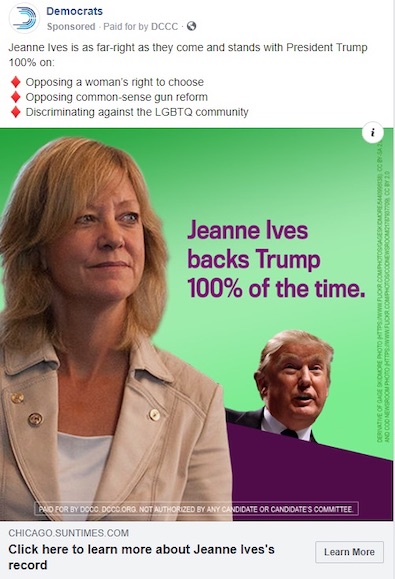 * The kicker…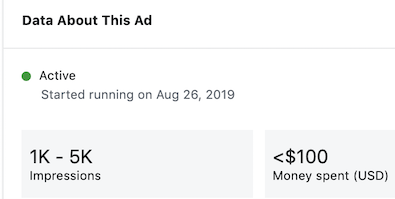 The DGA spent quite a bit of money to push Ives over Rauner during the 2018 Republican primary. We're not seeing that level of commitment out of the DCCC yet, but one never knows, I suppose.
15 Comments












































Sorry, comments for this post are now closed.