* KMOX with the exclusive…
Illinois GOP Rep. John Shimkus announced Friday on the Mark Reardon Show that he will not run for reelection in 2020.

In his 12th term right now, Shimkus was reelected in 2018 with more than 70% of the vote. He has represented Illinois' 15th Congressional District since 2013, before that he was represented Illinois' 19th Congressional District, since 2003.
Well, he finally term-limited himself. /s
Any idea who might run for that seat now?
…Adding… Scott Kennedy fills us in…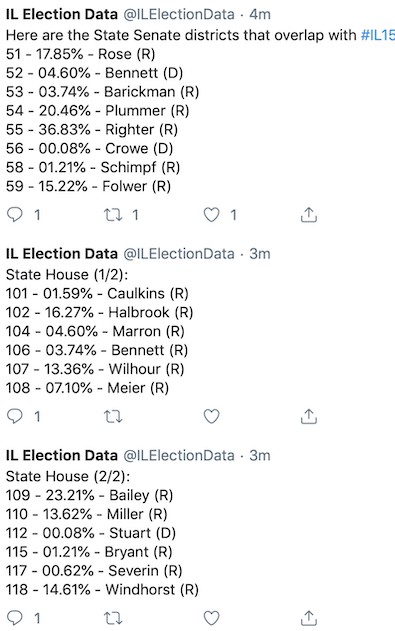 Sen. Jason Plummer has wanted that seat for a very long time.
…Adding… Keep an eye on retiring Sen. Dale Righter. Yes, he voted for the 2017 income tax hike, but he voted against the tax hikes to fund the capital bill this year. Why would he do that if he wasn't running again and needed help for his district? Food for thought.
…Adding… From his Facebook page…
As Illinois candidates begin to circulate petitions next week, now is the time for me to announce that I will not be seeking re-election.

It has been the honor of my lifetime to be asked by the people of Illinois to represent them in our nation's capitol. Each day I have tried to do this as best as I possibly could, and my success lies squarely at the feet of my incredible staff in Illinois and Washington, DC.

I will leave the political field knowing that I have served honorably and, with the help of many, accomplished a lot for my constituents, our state, and our nation.

Serving in Congress has been a blessing, but it has also been a sacrifice for my wife Karen, and our boys. Now young men, David, Joshua and Daniel continue to make me proud. I regret the times I have been away from the four of them and thank them for their constant love and support.

My family and I thank you for allowing us the honor to serve. Our dedication to our country, our state, our church, and our community will not waiver as we embark on the next chapter of life. God bless you, and God bless America.
*** UPDATE *** Not sure what to make of this…
Businessman Willie Wilson, who finished fourth in this year's historically crowded race for Chicago mayor, said Friday he's planning to run for the U.S. Senate next year.

Wilson, who's been known for tapping into his personal wealth to help people pay their property taxes, said he's going to run as an independent in hopes of unseating Illinois' incumbent Democratic U.S. Sen. Dick Durbin in 2020.

"I'm still a Democrat and when I ran for president I still supported the Democratic Party, but this is the way to go," Wilson told The Spin.

The 71-year-old Wilson has run for high-profile political offices before without success. He ran for Chicago mayor in 2015 and 2019, and got on the ballot in a handful of states when he ran for president in 2016.
Durbin received 53.5 percent of the vote in 2014.
…Adding… Press release…
Wilson will officially launch his campaign for United States Senator for the people of Illinois. Wilson is committed to making things better for ALL Illinoisans, but in particular minorities who feel lost and forgotten. "I am sick and I am tired of the same ol' politicians like Senator Dick Durbin taking advantage of minorities, having not been fair and his record reflecting that… the same ol' guard propping themselves up on the backs of minorities and selling them down the river. I MUST stand up for those who feel they do not matter or do not have a voice… for those who can't seem to get a fair shake. His record shows he has taken the minority vote for granted and hasn't put anything back of significance in the 20+ years he's been a U.S. Senator. He hasn't done nearly enough for prison reform and economic development in minority communities, but Durbin has supported sanctuary cities. Why hasn't he given the same attention to the areas of prison reform and economic development as well as to Reparations for those of African American Descendants of Slaves? He has totally been unfair. The time has come that we all have equal access and be treated fairly, once and for all. And that is why I am running for United States Senator – to represent ALL people regardless of race, creed or color," says a committed Willie Wilson.
14 Comments









































Sorry, comments for this post are now closed.