* Hannah Meisel…
Nineteen children who had recently been on the Department of Children and Family Services' radar have died in just the first 11 weeks of the 2020 fiscal year, according to the agency's inspector general.

Those deaths came after a particularly tumultuous year for the department, in which 124 children, whose family had some sort of involvement with DCFS within the previous year died during the 2019 fiscal year. […]

Of the 124 deaths of children in the 2019 fiscal year that had been in contact with DCFS in the previous 12 months, about 17 percent of them have preliminarily been ruled a homicide. Here's the breakdown:

Pending autopsy: 35
Accident: 32
Homicide: 21
Natural Causes: 20
Suicide: 6
Undetermined: 10
* The trend is not our friend…
FY 2019: 124 child deaths
FY 2018: 98 child deaths
FY 2017: 108 child deaths
FY 2016: 100 child deaths
FY 2015: 96 child deaths
FY 2014: 99 child deaths
FY 2013: 93 child deaths
FY 2012: 106 child deaths
FY 2011: 113 child deaths
FY 2010: 84 child deaths
FY 2009: 89 child deaths
* Meanwhile, this is from a recent Tribune story about DCFS and its new budget increase…
Additional money will be allocated to purchasing a federally mandated software system and paying the salaries for 301 more workers at the agency. As part of the staffing plan, DCFS will add 71 child protection investigators and 17 workers to the child abuse hotline, two areas that are crucial for flagging cases of alleged abuse or neglect but have been criticized for being understaffed.
So, who are the other hires?
* From the governor's office…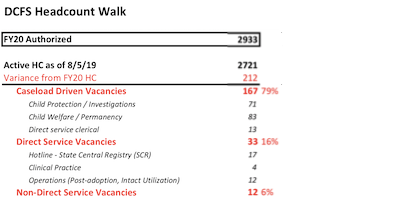 Also…
o We reached a headcount of 2,757 in May 2019, 1 below from FY19 authorized of 2,758.

o Due to end of the year retirements, attrition, & internal movement, our onboard headcount has dropped to 2,721 as of August 2019.

o FY19 additions: 126 positions, all caseload driven; These are allocated & currently being worked to fill

o FY20 additions: 175 positions; These are all allocated, most caseload & direct service – see above for breakout. Caseload driven positions are currently being worked & the remaining positions have been allocated & will begin the process to be filled quickly.
18 Comments





















































Sorry, comments for this post are now closed.