Um, no
Tuesday, Oct 1, 2019 - Posted by Rich Miller
* Um…
Another pressure point is CTU's demand to increase the number of social workers to a recommended one-per-220 students over three years. The cost would be an unfeasible $800 million, according to the city
* No…
The real number: 299394 / 250 = 1198
FY 20 budget 506 already so 692 needed. Or 69M over three years.
CPS has announced 665 (but won't put in contract) putting the CTU ask at 533 more social workers than CPS wants. Or 53M over 3 years. That's not 800m - that's not even close.

— Kyle Hillman (@kylehillman) October 1, 2019
* Um…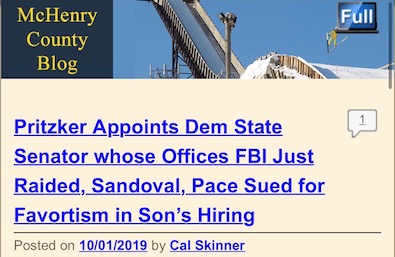 * No…
Martin Sandoval, C.P.A., will serve as a Business Administration Expert on the Abraham Lincoln Presidential Library and Museum Board of Trustees. With over 25 years of experience in business, strategic planning and financial management, Sandoval is the founding partner of Compass Associates. He previously was a Director of Corporate Development of Sara Lee Corporation and did similar work for organizations such as the McDonald's Corporation and Arthur Andersen.
We discussed this yesterday. It's a different Martin Sandoval.
Also, that hiring story is odd. RTA Chairman Kirk Dillard called Pace on the plaintiff's behalf to recommend him for a job and Sen. Sandoval's son got it instead. According to claims made in the story, no hard evidence has yet surfaced to directly establish that Sen. Sandoval actively helped his kid get the gig.
…Adding… Um…
Citing 'unpredictable legislative and regulatory landscape,' Sterigenics won't reopen

Sterigenics, the company that owns a shuttered medical sterilization facility that's been in the crosshairs of lawmakers and activists for its history of releasing a cancer-causing chemical into the Willowbrook area, will not reopen that facility.

Citing what the company called an "unpredictable legislative and regulatory landscape in Illinois," it announced Monday that it would exit its sterilization operations in Willowbrook.
Nowhere is this highly important fact mentioned…
Sterigenics also said it was unable to reach an agreement to renew the lease on the building it uses on Quincy Street in Willowbrook.
Forget about the regulatory environment. No lease, no business.
19 Comments
























































Sorry, comments for this post are now closed.