* A commenter mentioned this earlier and I checked with the Senate Democrats a few times and haven't yet heard back. Here's Hannah…
**** New: Per https://t.co/3VNkqvIolZ, Marty Sandoval is no longer listed as the chair of the Transportation Committee, just a member. His bio says he's a chair of…nothing? pic.twitter.com/EzK3Hvtw8B

— Hannah Meisel (@hannahmeisel) October 11, 2019
However, Sen. Tom Cullerton, who was indicted on over 40 federal counts, still has his chairmanship, according to the ILGA website.
*** UPDATE 1 *** From John Patterson with the Senate Democrats: "We received a resignation letter from Sen. Sandoval" regarding the chairmanship.
I'll post that when I get it.
*** UPDATE 2 *** Here's the letter dated today…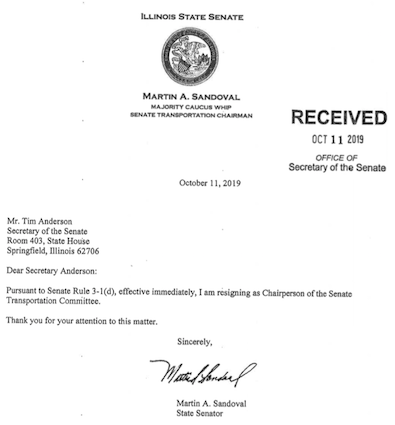 >
24 Comments







































































Sorry, comments for this post are now closed.