* You'll recall that the original release of the federal search warrant served on Sen. Martin Sandoval's (D-Chicago) Statehouse office was heavily redacted. This version isn't.
A lawsuit was filed by WBEZ to force the release of an unredacted search warrant. I'm told the Senate Democrats have been in contact with the feds since names and locations in the warrant have appeared in public about ongoing investigations, including some folks who were raided a couple of days after Sandoval and Exelon's disclosure this week that it had received a federal grand jury subpoena related to Sandoval.
* Anyway, click here to read it…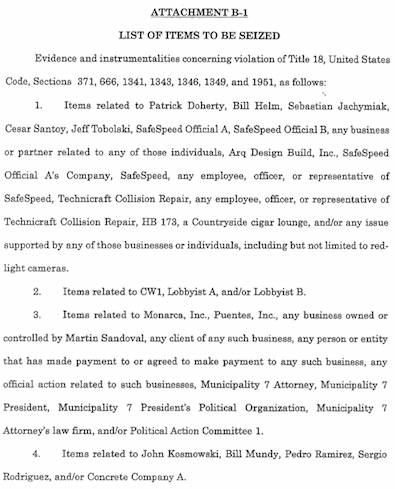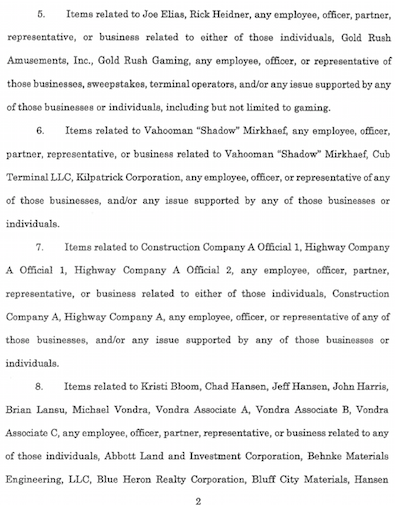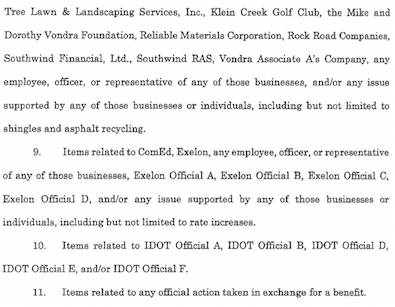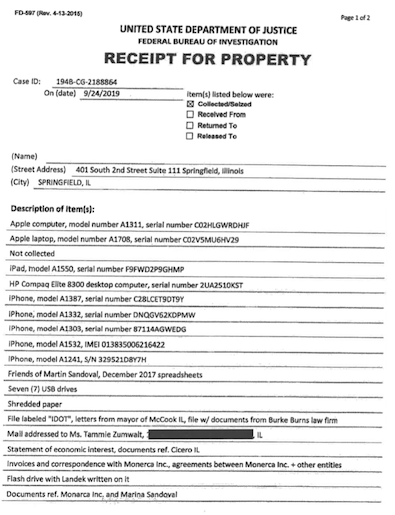 Yikes.
*** UPDATE 1 *** So, apparently, this dragnet includes a video gaming company. From Gold Rush Gaming's website…
For over 40 years, Rick and Alisa Heidner have served the Chicago-land area as experienced and proven business owners. Their first endeavor together was Heidner Properties, a commercial real estate development group that owns and self-manages over 200 properties across the country. After the successful launch of the real estate firm, they began focusing on their new dream involving slots and video poker. In 2012 Gold Rush Gaming was founded and quickly became the Gold Standard in the Illinois video gaming industry. Gold Rush believes in the values of honesty and integrity, both of which are embodied by Rick and Alisa.
*** UPDATE 2 *** You may recognize John Harris' name. He is Rod Blagojevich's former chief of staff who now works for Mike Vondra. Tammie Zumwalt is Sen. Sandoval's legislative assistant in Springfield and is also Sandoval's campaign treasurer.
Also, four Exelon officials? Woof.
*** UPDATE 3 *** I think the reference above to HB 173 is actually a bill from the 99th General Assembly sponsored by Rep. David McSweeney to ban red light cameras. The measure passed the House but stalled out in the Senate.
*** UPDATE 4 *** Rick Heidner isn't just involved in video gaming, he's trying to own a new racino…
A new horse racing track and casino proposed for Tinley Park has made it out of the starting gate. […]

The southwest suburban harness racing venture is headed by Hawthorne Race Course general manager Tim Carey and real estate developer Rick Heidner, who also runs one of the state's largest video gambling machine companies.
Also, if it's the same Cesar Santoy, he's a Berwyn alderman and an architect.
Sebastian Jachymiak owns a towing company and the Technicraft Collision Repair listed in the warrant. Technicraft has contributed over $100,000 to various candidates, many of whom have been raided or otherwise connected to this.
Sergio Rodriguez is the mayor of Summit.
*** UPDATE 5 *** Cesar Santoy was appointed by Gov. Pritzker to the Illinois Toll Highway Authority in February.
The governor's people say they'll be issuing a statement about this.
*** UPDATE 6 *** Sebastian Jachymiak appears to be very politically connected, and at one time, at least, had ties to Speaker Madigan. Click here for some 2010 background.
*** UPDATE 7 *** Under the bus he goes…
Mentioned in the search warrant is Cesar Santoy, a Berwyn alderman & @GovPritzker appointee to the Illinois Tollway board. Pritzker just now called for Santoy to step down from that position. https://t.co/3pCl0OQeGz

— Jamie Munks (@by_jamiemunks) October 11, 2019
*** UPDATE 8 *** John Kosmowski is the Summit police chief. Safespeed operates Summit's red light cams.
Vahooman "Shadow" Mirkhaef owns Cub Terminal LLC. His companies, including Cub Terminal, have contributed hundreds of thousands of dollars to political campaigns, with Sandoval being a beneficiary.
And here's some info on Bill Helm…
Their federal lawsuit charges Deputy Airport Commissioner Bill Helm is the enforcer, pushing employees to do political work, often on city time, with backup from Airport Manager Kevin Martin.
*** UPDATE 9 *** If you notice on the "receipt" page, you'll see documents were seized from the Burke Burns law firm. Sen. Don Harmon (D-Oak Park) is a partner at that firm. I've asked Harmon for comment and will let you know what he says.
Kristi Bloom is listed on LinkedIn as the Executive Admin., Operations for one of Vondra's companies, Bluff City Materials. I'm told she also helps run Sandoval's annual golf outing.
*** UPDATE 10 *** The feds also seized documents referencing Marina Sandoval. Marina is Sen. Sandoval's spouse.
*** UPDATE 11 *** From Sen. Don Harmon…
I have absolutely no idea to what that refers, and I'd be happy to talk to you again if something comes to light.
This is a bit weird because Sandoval is an avowed Harmon enemy.
*** UPDATE 12 *** More on Burke Burns…
The suit seeks documents from Burke Burns and Pinelli, where State Sen. Don Harmon is a partner. Lyons hired BBP to handle all of our FOIA requests, and the firm charged the village $24,000. They denied our request for the Lyons warrant and redacted the McCook warrant. pic.twitter.com/tVGKJAOR6b

— Casey Toner (@ctoner) October 11, 2019
*** UPDATE 13 *** I probably should've mentioned earlier that I wrote a column on Mike Vondra and his companies. Click here to refresh your memory.
*** UPDATE 14 *** Brian Lansu is an attorney for a Mike Vondra company named Reliable Materials and is also in-house counsel for Buona Beef. His law license was suspended for five months in 2009.
*** UPDATE 15 *** Tribune…
[Illinois Toll Highway Commissioner Cesar] Santoy's attorney, Brendan Shiller, said in a statement to the Tribune that he's "been informed that neither Cesar nor Studio Arq is a target" of the probe.

"The government wanted some records and they were provided," Shiller said.
*** UPDATE 16 *** Sun-Times…
When reached by phone by the Chicago Sun-Times, [Rick Heidner] said he had not yet learned his name appeared on the document. He said no one had contacted him about it, and he said he had "zero clue" why his name would be there.

"Maybe it's because, you know, I donate money politically and charitably," Heidner said. "But I have no clue why my name would be on it at all."
*** UPDATE 17 *** Good info from WBEZ…
Records obtained by WBEZ show Sandoval's private company, Puentes, Inc., is paid $4,200 a month by the Town of Cicero and $2,000 a month by the North Berwyn Park District, both of which lie in Sandoval's legislative district that straddles Chicago and southwest suburbs.

The FBI reported taking "invoices and correspondence with [Monarca], agreements between [Monarca] + other entities" in addition to "documents ref. Monarca Inc. and Marina Sandoval." […]

The feds sought information about a litany of Vondra-related business ventures and a foundation set up by Vondra and his wife, Dorothy. Also included was a request for records related to a west suburban golf course, Klein Creek Golf Club, where Sandoval has hosted numerous campaign fundraising events. […]

Also named in the search warrant was Jeff Tobolski, the Democratic Cook County commissioner and mayor of McCook. Tobolski's office at the McCook village hall was the target of another FBI raid, two days after the search warrants were served at Sandoval's offices.
*** UPDATE 18 *** You'll notice that on the receipt list of item seized is this: "Flash drive with Landek written on it."
There is a theory developing that Sandoval was creating opposition research files on both Sen. Don Harmon and Sen. Steve Landek. As mentioned above, Sandoval despises Harmon and he may have been plotting to back a certain someone against Landek in a Democratic primary. Again, it's just a theory so far, but it would fit the Sandoval profile. Stay tuned.
*** UPDATE 19 *** ILGOP Chairman Tim Schneider…
The unredacted warrant provides another glimpse into the vast network of background players involved in the corrupt Chicago Democrat machine that runs this state. From another close Madigan ally to Pritzker's Tollway appointee, there is virtually no level of state and local government in Cook County that is not teeming with self dealing Democrats looking to screw over taxpayers. The Illinois Democratic Party is a crime ring masquerading as a political party.
79 Comments












































































































































































































































Sorry, comments for this post are now closed.