* Lansing State Journal…
Dozens of websites branded as local news outlets launched throughout Michigan this fall, with monikers like Lansing Sun, Ann Arbor Times, Thumb Reporter and UP Gazette, promising local news but also offering political messaging. […]

[Metric Media CEO Bradley Cameron's] biography also says he has worked for pharmaceutical manufacturers, technology companies, and is retained by national conservative leaders to respond to "government targeting of their operations and initiatives."

According to the sites' privacy policy pages, they are operated by Locality Labs LLC, a Delaware company that similarly affiliated with a network of local sites in Illinois and Maryland, and business sites in nearly every U.S. state.

The publications Locality Labs operates in Illinois, which include both websites and printed papers, provide different descriptions of their editorial direction.

West Cook News, for example, says its "core belief" is in "limited government, in the constructive role of the free market and in the rights of citizens to choose the size and scope of their government and the role it should play in their society." It is funded in part by advocacy groups who believe the same.

Messages left with Locality Labs' various Illinois publications were not returned. Locality Labs CEO, Brian Timpone, could not be reached for comment.
* I've been calling these publications "Dan Proft papers," but Timpone runs the show. He's a former Statehouse reporter and House Republican spokesperson. I've reached out to Brian for comment and will post it if/when I get it.
Check out this list of business publications operated by Locality Labs…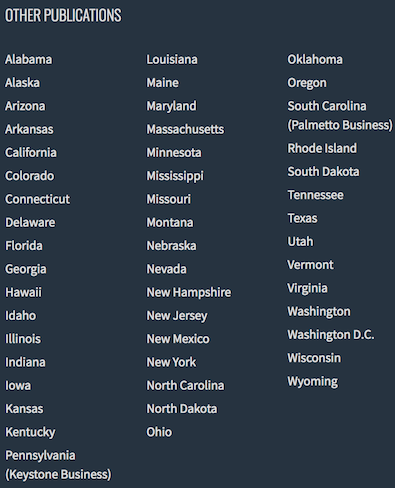 Again, that's only the business publications. From the West Cook News page, here's a list of their community publications in Illinois…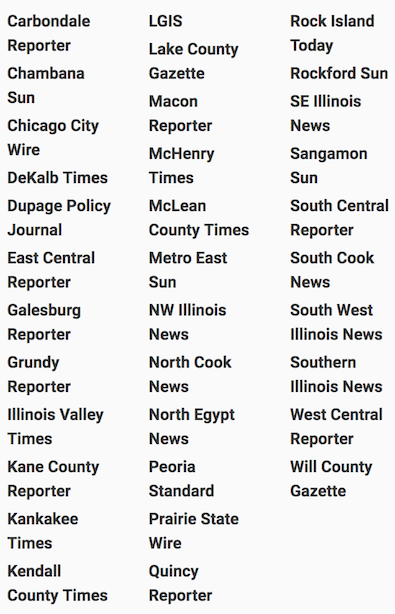 They also run several legal news sites, including the Madison-St. Clair Record in the Metro East…
Dude's got some reach. (Headline explained here.)
21 Comments






























































Sorry, comments for this post are now closed.