* I told subscribers to expect this earlier today and the reasons for it…
Hearing from House sources that Rep Luis Arroyo has now officially resigned, and this afternoon's Special Investigating Committee hearing to expel him from the chamber is officially cancelled.

— Hannah Meisel (@hannahmeisel) November 1, 2019
*** UPDATE 1 *** Press release…
House Speaker Michael J. Madigan released the following statement Friday:

"Representative Arroyo's resignation shouldn't distract from the fact that the allegations contained in this criminal complaint go beyond anything that could be considered a lapse of judgment or minor indiscretion. These allegations are beyond extraordinary, which is why it called for the creation of the Special Investigative Committee and possible disciplinary action. While every circumstance will not require this process, the egregiousness of these particular allegations and the evidence demanded that every effort be taken to restore the public's trust. Although the disciplinary process will no longer proceed, there is still a focus on strengthening our laws to prevent this unacceptable conduct. I look forward to working with the governor and other legislative leaders to look for ways in which we can continue to improve the safeguards we have today."
*** UPDATE 2 *** Here's the resignation letter. Click the pic for a better version if need be…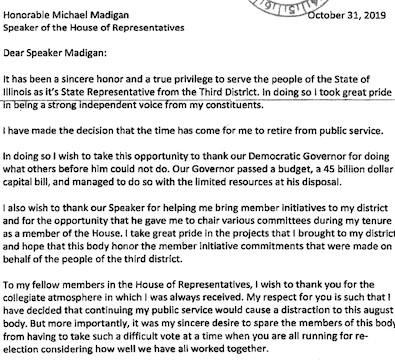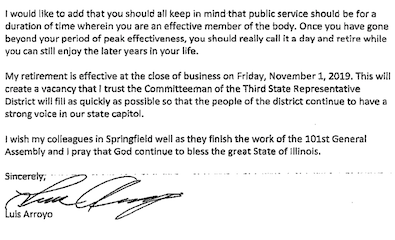 Man, is that ever self-serving. I'm betting lots of his colleagues would have loved to vote to expel him as they gear up for reelection.
*** UPDATE 3 *** Press release…
State Representative Tom Demmer (R-Dixon) released the following statement in response to the resignation of State Rep. Luis Arroyo:

"The criminal complaint against Rep. Arroyo has shaken any trust the public had left in the General Assembly. In an effort to begin restoring public confidence, Senator Terry Link needs to step down immediately from his position on the Legislative Ethics Commission while this widespread federal investigation continues."
*** UPDATE 4 *** Press release…
The Illinois Legislative Latino Caucus released the following statement responding to state Rep. Luis Arroyo's resignation:

"The Illinois Legislative Latino Caucus holds at our core the values of integrity, transparency, and ethics. We condemn any lawmaker who goes against those values and violates the public trust. As a caucus, we'll continue to champion those values and ensure the necessary changes are implemented to safeguard the legislative process and restore public trust."
51 Comments
























































































































































Sorry, comments for this post are now closed.