* Western Illinois University's racial tension and its eventual ouster of the university's first African-American president Jack Thomas wasn't covered very well by local media. But the Chronicle of Higher Education has published a deep dive that's well worth a full reading…
Elitism. Incompetence. Kanye. There were lots of reasons people say they soured on Thomas. But the incident that infuriated many of his critics, and directly preceded the "Fire Jack" campaign, was Thomas's decision to fire Brad Bainter.

Bainter, who is white, is a former WIU Leatherneck basketball star who went on to serve as the university's vice president for advancement and executive officer of its foundation; his wife is director of alumni programs. Thomas cited administrative costs as the rationale for eliminating Bainter's job. Bainter, though, had close professional relationships with some of Thomas's opponents.

In dismissing Bainter, Thomas had disrespected a Macomb favorite son. "That was kind of the final straw, because Brad's a local kid," said W. Garry Johnson, an emeritus vice president for student services who worked at Western for 33 years. Firing Bainter was "the dumbest thing that could have ever happened," Johnson said, because it alienated any remaining supporters Thomas might have had.

The backlash was swift. Days later, the executive committee of the university's foundation board sent a letter to Western's trustees, calling for Thomas's ouster and Bainter's reinstatement. Soon after, the Alumni Council followed suit with a resolution.

As the town rose up against Thomas, state officials sounded an alarm about the racial overtones of the campaign to remove him.

In early June, Jesse H. Ruiz, deputy governor for education, warned Western's trustees about the bigotry that was flooding his inbox. He forwarded to the board one of "many" racist emails that he had received about the president, this one accusing Thomas of admitting low-income students as part of a "social experiment of using WIU as a form of welfare."

"Many of the free and reduced students have brought with them criminal elements and family members who ride their coat tails which has negatively effected [sic] this community," the person wrote.

In reality, total crime in the city dropped by about 60 percent from 1991 to 2015, according to the latest federal data.

In his email to the trustees, Ruiz urged the board to "stand up to these misinformed and misguided attacks."
* The article also quoted WIU senior Janiya Haynes…
She noticed a group of men in a red pickup truck at a nearby intersection. They yelled a racial epithet at her, Haynes said, and warned that black people "shouldn't be out at night."
* In response, Heather McMeekan, the president of the Democratic Women of McDonough County, has published an open letter to Macomb's mayor and city council…
The entire article about our community was profoundly distressing, embarrassing, and consistent with the experiences of members of our organization, campus, and community. It shows a community that has chosen to ignore these issues for far too long. However, we wish to address specifically the abhorrent behavior described in the article by unknown person or person(s) in a "red truck" targeting some members of our community for behavior ranging from verbal harassment to explicit threats.

I personally witnessed a truck with that description displaying flags consistent with the White Supremacist movement in the Aldi's parking lot in February of 2018. I have sent that photo to the Office of Public Safety Director Derek Watts and WIU's President, Dr. Martin Abraham.

Our organization has members who have students, friends, or family members who have reported to us having had similar experiences with a truck matching that description. We have also had community members reach out to our organization over the past year with similar accounts, which we always encourage all to report to the police. However, in every single case, those reporting such incidents to us also have reported lack of trust in the police to properly investigate such incidents without retaliation against those making the complaint. Therefore, this behavior targets those already perceived as being marginalized and who also express the belief or perception they aren't safe from our own police.
* The truck…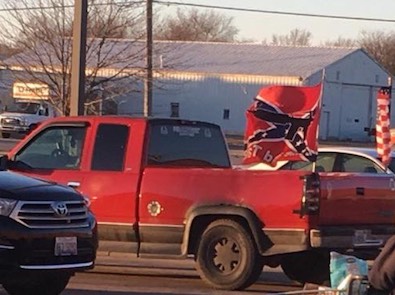 61 Comments






















































































































































































Sorry, comments for this post are now closed.