* From 2015…
The Rauner administration said Monday it has reached tentative or final agreements on new labor contracts with five groups of Teamsters units representing about 4,600 workers statewide.

The announcement comes as the Illinois House prepares to return to Springfield on Wednesday and possibly vote on overriding Gov. Bruce Rauner's veto of Senate Bill 1229. The bill, pushed by Council 31 of the American Federation of State, County and Municipal Employees, would place contract talks in the hands of an independent arbitrator in the event an agreement cannot be reached at the bargaining table.

The Rauner administration has previously used settlements with Teamsters locals as evidence that it bargains in good faith and can reach contract settlements with unions representing public employees.
* From that 2015 Teamsters contract…
Maintenance of the current level of health care benefits for employees and their dependents as part of the State's continued contributions to the independent Teamsters Local 727 Health & Welfare Fund.
That was supposed to be paid for with a four-year wage freeze. What Rauner did was provide lots of state money to move Teamsters union members out of the state health insurance fund, which he was trying to kill off or at least hobble. Costs have since climbed even higher.
* From AFSCME's new contract…
Employee premiums and out-of-pocket costs in the state group health insurance plan will increase. Although specific employee contributions vary by type of health plan and salary levels, premiums will go up each January by a composite $13 per month for individuals and $18 per month for families.
* Yesterday…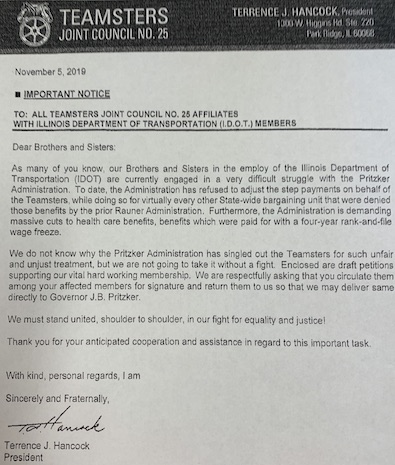 * From a Pritzker spokesperson…
The administration is committed to negotiating contracts that are fair to workers who serve the state and taxpayers, and we are committed to working through issues in this contract at the bargaining table.
47 Comments












































































































































Sorry, comments for this post are now closed.