* I somehow forgot to include this in today's Corruption Roundup post. Greg Hinz…
The City Club of Chicago is contending with the fallout of its president's involvement in a federal probe of Commonwealth Edison influence in Springfield. Weeks after Jay Doherty's City Club offices were raided—and in the wake of disclosures that the prominent public affairs group's chief was paid more than $3.1 million over a span of years by the utility giant—a growing roster of speakers are canceling upcoming City Club appearances. […]

After some internal debate, the club's board decided to reject Doherty's offer to resign, insiders tell me, at least in part because Doherty in recent years has been critical to the club's success in landing prominent public officials to its forums, including governors and mayors, U.S. senators and even candidates for president.

"Mr. Doherty is the president of the club. I don't know of any move afoot to change that," club attorney Michael Hayes told me. "I hope he stays. He's largely the reason we've been successful."

At the same time, club leadership has declined to press Doherty for some explanation of exactly what he did to earn that much from ComEd, a state regulated entity, and to answer whether that big check conflicts with the club's very public role in helping shape city and state public policy.
Yeah, well, they can add me to the list of people who aren't speaking this year.
*** UPDATE *** Look who's speaking tomorrow…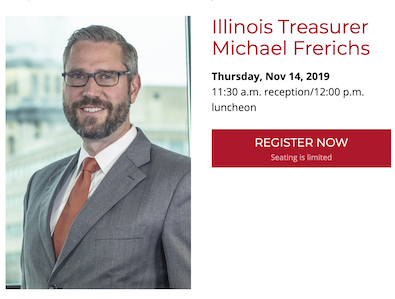 50 Comments





















































































































































Sorry, comments for this post are now closed.