* Kristen McQueary last year…
There certainly are stories about the Illinois Republican Party also being accused of aggressive control-freakery. But I haven't heard nearly as many complaints from that side as I have during my 20 years of covering Madigan's office.

So spare me the mea culpa, the "woke" moment, the grasping press releases. Democratic women running under Madigan's political umbrella have become adept at looking the other way.
* Last night…
Columnist Kristen McQueary: When you fall into a pit of despair, you survive only if someone kneels at the rim and extends a hand. For former state Rep. John Anthony, the hands were scarce. But they were strong. And now he is back with a radio show. https://t.co/1V2XuvY9Bx

— Chicago Tribune Opinion (@chitribopinions) November 25, 2019
* Refresh your memory…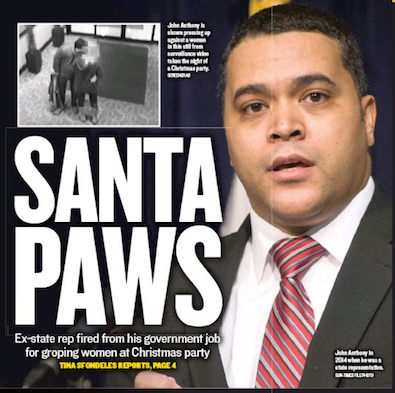 As for the incident caught on surveillance tape, an Illinois Department of Juvenile Justice employee told investigators she was walking to an exit to go smoke a cigarette when she was approached by Anthony, who put his arm around her and asked if she was a corrections employee.

She told him she wasn't. He then allegedly told her she had "nice t—, nice a–." Then he stepped to the side and pressed himself onto her left thigh and licked her neck, the report says. […]

Other women at the party told investigators that Anthony had been inappropriately commenting to and touching them as well.

The behavior warranted a talk by another state employee during the party, according to the records. That discussion happened after a woman reported Anthony had touched her breasts.
McQueary's column claims that only one woman alleged groping. There were clearly others that night. And if you think that was a one-off thing, you'd be mistaken.
Video is here.
* Reaction to the column was swift and brutal…
Are you going to glorify Kevin Quinn next? https://t.co/auV9RS2rz9

— Alaina Hampton (@alainaxhampton) November 26, 2019
If I recall, there were plenty of hands involved, particularly when it came to the non-consensual touching. https://t.co/oJodAzHzWg

— Emily Miller (@EJMill) November 26, 2019
From raising funds to finding jobs to praising the ways they've put the sordid stories behind them, I am fed up with stories about how #MeToo has ruined mens' lives. What I still haven't heard in any of the stories here is how any of these guys are trying to make things right 2/4

— Rep. Kelly Cassidy (@RepKellyCassidy) November 26, 2019
Finally, let's spend a minute looking inward & wonder why we aren't hearing about folks going out of their way for the victims in these stories & why so few victims are willing to come forward. Maybe, to borrow from the editorial, try kneeling at the rim & offering a hand? 4/4

— Rep. Kelly Cassidy (@RepKellyCassidy) November 26, 2019
* Emily Miller gets the last word…
Been thinking on this. There has to be room for harassers to learn & change. I believe many truly want to & can. But if you're unwilling to accept & acknowledge the pain you've caused (READ: NOT YOUR OWN PAIN) & learn to live better, you're leaving the door open to do it again. https://t.co/4MzEpCkZBr

— Emily Miller (@EJMill) November 26, 2019
*** UPDATE 1 *** Rep. Deb Conroy (D-Elmhurst)…
Hi Rich, I do not tweet but I'm just as angry.

This is just unbelievable coming from McQueary. She criticizes the women's caucus every chance she gets when in reality we have spent our time doing the difficult work to change a culture and not chasing headlines. As a journalist she may want to work a bit harder on the other side of the story. Everyone deserves a second chance, absolutely. In this case the writer completely disregarded the women who chose out of fear to keep their story private and push through the pain. This type of journalism is why victims are afraid to come forward.
*** UPDATE 2 *** Legislative & Political Director for UFCW Local 881…
Looping back on this.

I personally witnessed John Anthony harass and assault women in Springfield. In a very memorable instance, we asked him to stop repeatedly and he just laughed it off.

Women should be believed and stories like this one in @chicagtribune are unacceptable. https://t.co/7mvyBgJzie

— Zach Koutsky (@zakouts84) November 26, 2019
65 Comments


































































































































































































Sorry, comments for this post are now closed.