* As we've discussed twice before this month, the legal definition of when a contribution is received is the day it is deposited in the bank. So, we don't know exactly when these contributions were actually made without checking with the respective campaigns or ComEd's PAC…
Since the Oct. 15 bombshell of Anne Pramaggiore's retirement from @Exelon, its @ComEd subsidiary has donated to the campaigns of five state pols. Of the five, state Sen. Lightford, lead contender for Senate president, got the most #twill pic.twitter.com/fcfJRyRsBj

— Steve Daniels (@stevedaniels27) November 27, 2019
* The Question: Should ComEd's political action committee stop contributing to legislators' campaign funds for a while? If so, for how long? Make sure to explain your answer. Thanks.
*** UPDATE *** From Kimberly Lightford's campaign…
Both checks mentioned by Steve Daniels were written on Sept 11, well before Anne Pramaggiore's retirement.
The checks with redactions by me…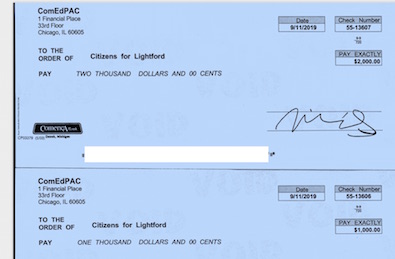 24 Comments







































































Sorry, comments for this post are now closed.