* Greg Bishop at The Center Square did a lot of work today and pieced together a bunch of legislative candidate filings…
Among the candidates who filed were two Democrats seeking the 3rd District seat in the Illinois House. That seat was vacated by former state Rep. Luis Arroyo. He stepped down after he was charged with bribing an unnamed state senator. He has pleaded not guilty.

House Speaker Michael Madigan signaled the House would challenge the qualifications of the person party leaders chose for the seat if Arroyo had any part in the selection project. Party leaders in that district chose Eva Dina Delgado to take Arroyo's seat. She filed Monday, as did David Feller.

Peter Breen of Lombard filed as a Republican in an effort to regain the 48th House district seat he lost to state Rep. Terra Costa-Howard, D-Glen Ellyn. Costa-Howard also filed Monday.

There could be a Republican primary in the 74th Illinois House district. State Rep. Dan Swanson, R-Alpha, filed, as did Frank Ostling of Amboy. Another Republican primary would pit state Rep. Allen Skillicorn, R-East Dundee, against Carolyn Schofield of Crystal Lake, both filed for the 66th District seat. Democrats Suzanne Ness of Crystal Lake and Jim Malone of Carpentersville also filed papers for the 66th District seat.

Three Republicans – David Friess of Red Bud, David Holder of Baldwin and Kevin Schmidt of Millstadt – could face off to challenge state Rep. Nathan Reitz, D-Steeleville. All three filed Monday.

Four Republicans filed Monday for the 115th House seat being vacated by state Rep. Terri Bryant, R-Murphysboro. Bryant filed for the 58th state Senate district on Monday. The four Republicans vying for her seat are John Howard of Texico, Johnnie Ray Smith II of Ashley, Clifford Lindemann of Bluford and Zachary Meyer of DuQuoin.

Three Republicans are vying for the seat of state Rep. Darren Bailey, R-Xenia, after Bailey announced he's running for the state Senate. The three Republicans are Andy Hires of Olney, Cory Musgrave of Geff and Adam Niemerg of Dieterich. Bailey filed Monday for the 55th Senate District.

Two Democrats, Maggie Trevor of Rolling Meadows and Ryan Huffman of Palatine, want to unseat state Rep. Tom Morrison, R-Palatine. Two Republicans, Al Manzo of Addison and Michael Camerer of Bartlett, want to challenge state Rep. Diane Pappas, D-Itasca.

In the Illinois Senate, state Sen. Chuck Weaver, R-Peoria, could face a challenge in the primary from Win Stoller of East Peoria. Both filed as Republicans. State Sen. Tony Munoz, D-Chicago, could face Froylan Jimenez of Chicago in the Democratic primary. State Sen. Robert Peters, D-Chicago, faces a primary challenge from Ken Thomas of Chicago. State Sen. Robert Martwick, D-Chicago, could be challenged by Danny O'Toole of Chicago.

State Rep. Margo McDermed, R-Mokena, isn't running for reelection. Republicans Tim Ozinga of Mokena and Tim Baldermann of New Lenox filed Monday for that seat as did Democrat Michelle Fadeley of Joliet.

State Rep. Theresa Mah, D-Chicago, could face a challenge in March from Bobby Martinez Olsen of Chicago. State Rep. Justin Slaughter, D-Chicago, may face a challenge from Marlo Barnett of Chicago. State Rep. Kam Buckner, D-Chicago, could see a challenge from Marc Loveless of Chicago. State Rep. Sara Feigenholtz, D-Chicago, could see a challenge from Ryan Podges of Chicago. State Rep. Omar Williams, D-Chicago, could face Gerard Moorer of Chicago in the primary.

State Rep. Lindsey LaPointe, D-Chicago, has two party challengers, Joe Duplenchin and Patti Vasquez, both of Chicago. All three filed petitions Monday. State Rep. Yahiel Kalish, D-Chicago, faces a primary challenge from Denyse Stoneback of Skokie.
* Meanwhile, here's Katlyn Smith at the Daily Herald…
The start of filing for the March 17 primary election in DuPage County attracted an unprecedented number of Democrats Monday in what, until a year or so ago, had been a traditional Republican stronghold.

Democrats were filing nominating petitions Monday to challenge Republican incumbents for all six available county board seats next fall. Several of those Democratic candidates could find themselves in contested spring primaries. […]

The most hotly contested Democratic primary has emerged in District 4, where five candidates are expected to vie for their party's nod to face incumbent Republican Tim Elliott of Glen Ellyn next November.

At least four of those candidates filed Monday morning — Hadiya Afzal of Glen Ellyn, Lynn LaPlante of Glen Ellyn, John Jacobs of Wheaton and Janette DeFelice of Glen Ellyn. Party leaders say they also expect Hailey Nicewanner of Glen Ellyn to run.
Smith has the entire rundown, so if you're into this topic, click here.
* From the Atlantic…
[An investigation by Reveal from the Center for Investigative Reporting] amassed internal injury records from 23 of [Amazon's] 110 fulfillment centers nationwide. Taken together, the rate of serious injuries for those facilities was more than double the national average for the warehousing industry: 9.6 serious injuries per 100 full-time workers in 2018, compared with an industry average that year of 4. […]

But injury records and interviews with three of the former Amazon safety managers suggest the introduction of the robots led to even more injuries. Of the records Reveal obtained, most of the warehouses with the highest rates of injury deployed robots. One robotic facility in Kent, Washington—which a senior operations manager boasted was "the flagship of fulfillment," as one of the few centers in 2016 to ship a million packages in a day—logged 292 serious injuries last year, for a rate of about 13 serious injuries per 100 workers.
* And this section on Indiana is simply repulsive…
And when disaster struck at one Indiana warehouse, Amazon's economic might may have helped the company evade accountability. When a maintenance worker was crushed to death by a forklift there, state officials in Indiana, which then was jockeying for Amazon's second headquarters, sided with the company over their own investigator. […]

On Sept. 24, just a few days after he'd been eating ice cream and watching college football with his grandkids, Terry showed up for work and was sent to do maintenance on a forklift. He walked under the machine's forks and metal platform to work on it with a wrench. Suddenly, the 1,200-pound piece of equipment dropped down and crushed him.

His body lay there nearly two hours before a co-worker noticed the pool of blood. […]

As he surveyed the site of the accident, [Indiana OSHA inspector John Stallone] quickly figured out the problem: A tall pole, lying just feet away, should have been used to prop up the forklift during maintenance. In a recording he made of his inspection, Stallone asked an Amazon manager whether there was any written documentation of Terry being trained on that. […]

Indiana OSHA issued four serious safety citations, for a total fine of $28,000. Stallone sought more, but he was getting pushback. On Nov. 20, 2017, Stallone joined his boss, Indiana OSHA Director Julie Alexander, as she called Amazon officials. He secretly recorded the conversation, which is legal in the state, and shared the recording with Reveal.

During the call, Alexander told the Amazon officials what she'd need from them in order to shift the blame from the company to "employee misconduct," according to the recording. […]

Some days after the conference call with Amazon officials, Stallone said Indiana Labor Commissioner Rick Ruble pulled him into his office. The governor was there, too, standing by the commissioner's desk, according to Stallone.

He recalled that Holcomb told him how much it would mean to Indiana if the state won the Amazon headquarters deal. Then, Stallone said, the commissioner told him to back off on the Amazon case—or resign.
* Press release…
Governor JB Pritzker vetoed House Bill 3902 today, which would provide a sales tax exemption for private aircraft parts and components through December 31, 2024.

The past due taxes from Illinois' private jet companies amount to roughly $50 million, including interest and penalties. This bill would also allow an additional $10 million per year in tax credits through 2024.

"Giving private aircraft companies tens of millions of dollars in past due tax forgiveness is not the right fiscal decision for our state as we face billions in debt associated with unpaid bills, a multi-billion-dollar structural deficit, and critical needs in schools and public safety services," writes Governor JB Pritzker in the veto message.
The bill's final passage vote was November 14. It was sent to the governor on November 20. That was quick.
* From his veto message…
My administration appreciates the hard work of the sponsors of this legislation in the House and Senate. However, I am opposed to providing a sales tax exemption to private aircraft companies. The delinquent taxes owed from Illinois' private jet companies amounts to roughly $50 million, including interest and penalties, and if House Bill 3902 became law, the state would be allowing an additional $10 million per year in tax credits through 2024. […]

Most importantly, we are working to balance our budget and to provide a stable fiscal environment upon which to build a thriving economy. Allowing this past due tax forgiveness to the private jet industry at this time is not in line with this vision.
The bill passed both chambers with huge veto-proof majorities.
* Setup…
Talking points email from @ILGOP today:

"Who says you can't talk politics at the Thanksgiving table? Here are some important updates to share with your holiday guests …"

(2/2)

— Brian Mackey (@BrianMackey) November 25, 2019
* ILGOP "punchline"…
Rich,

With Thanksgiving approaching this week, we wanted to make sure you were equipped with all of the latest information you need to tell your loved ones this holiday season that Illinois is controlled by a ring of corrupt Democrat politicians led by Michael Madigan.

Who says you can't talk politics at the Thanksgiving table?

Here are some important updates to share with your holiday guests:

Governor JB Pritzker, Speaker Mike Madigan, and their top political allies are all under federal investigation.

The Democratic Party of Illinois is a vehicle for no talent cronies and grifters to reward friends, wield power and personally profit from public office.

A wide-ranging corruption probe throughout the state has already yielded indictments for two Democrat state legislators and the most powerful Chicago alderman.

The FBI is issuing warrants and subpoenas on Mike Madigan's top political cronies; it's just a matter of time before the machine comes to a screeching halt.

We've pulled together all of this information on our new website, which tracks the web of corruption that Mike Madigan and his political cronies have built throughout the state:

VISIT DemCorruption.com

We are aggressively gathering more resources to keep updating this website with all of the new information we receive.

Before Thanksgiving Day, can we ask you to chip in $5 to our STOP CORRUPT ILLINOIS DEMOCRATS fund?

We're still $10,000 away from our end of month goal.

Thank you for continuing to support the Illinois Republican Party. We wish you and yours a very happy Thanksgiving holiday.

Sincerely,

Anthony Sarros
Executive Director
I checked and didn't see any significant updates from the launch of the site.
Also, people who insist on talking politics during holiday dinners shouldn't ever be invited back. It's a time for family togetherness, not cable TV debates. Sheesh.
* Oscar's groomer told me last week that the little guy has an ear infection. He also has some redness on his tummy. So, he's going to the vet. I'll be back when I can. Meanwhile, be nice to each other and keep it Illinois-centric. Thanks.
*** UPDATE *** The vet found no ear infection, but he does have a little infection on his belly, so he's taking some antibiotics for the next 10 days. Should be all good by then.
* Rep. Kelly Cassidy (D-Chicago) got a surprise this week when she opened her campaign mailbox…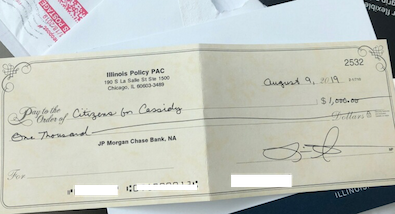 Cassidy said she's worked with the Illinois Policy Institute on criminal justice reform, campaign finance reform and ethics. So, she's depositing the check and not refunding it.
* Mark Maxwell at WCIA has a long piece up about the race for Illinois Senate President. Here are a couple of excerpts…
"Illinoisans need to trust their elected leaders, particularly those who lead the legislative chambers," Emily Bittner, a spokeswoman for Pritzker said in an email on Sunday. "The governor strongly believes that those who have been subject to federal raids or indictment would taint the outcome of that election and should not participate in selecting the next Senate President."

"The election of the Senate President is among the oddest elections," [Sen. Don Harmon] said in response to Pritzker's statement. "It's entirely an internal debate and deliberation. In the end, we will need to figure out what the appropriate ground rules are." […]

Should Senate Democrats agree to accept Pritzker's guidance and bar Senators Tom Cullerton and Martin Sandoval from casting a vote, the pool of available Democratic senators would shrink to 37 and increase the likelihood of a protracted battle between warring factions.

Enter the Republicans, who hold 19 votes in reserve.

While it could prove an incredibly unlikely scenario for a number of politically sensitive and risky reasons, many of the Senate Republicans admitted they have discussed the possibility that if the conditions were right, one or more of them could play a role in electing the next leader of their chamber. Others suggested they might even listen to offers from certain of their Democratic counterparts. Two Republicans, who spoke anonymously in order to avoid disrupting delicate discussions, confessed they already had, and described casual conversations about the prospect of crossing the aisle to back a candidate if that person made public pledges to support 'Fair Maps' or to grant concessions at the committee level.
1) The governor has to be a bit more careful here; 2) The Republicans would be playing a very dangerous game if they tried to interfere. From the Senate's rules…
Election of the Minority Leader. The Senate shall elect a Minority Leader in a manner consistent with the Constitution and laws of Illinois.
The entire Senate votes on the Republican Leader. Mess with the Democrats, they could mess with the GOPs.
…Adding… Good point in comments…
You can't assume anything if this succession battle goes completely off the tracks, but hypothetically, I would think that the same bipartisan group of 30 senators that gets together to pick a president would also cut a deal to pick the minority leader — two votes on two different motions by the same 30 members.
* I can certainly understand the frustration expressed here…
dO SoMeTHinG on first responders pensions! No wait, slow down! https://t.co/mXDqKfHsnC

— Michael J. Zalewski (@mjzalewski) November 25, 2019
* From the column…
Task force members came up with the plan a few months ago and urged the legislature to pass it. The General Assembly did so in the recent fall veto session.

Amanda Kass, the associate director of the Government Finance Research Center at the University of Illinois-Springfield, cautiously embraced consolidation when it was first disclosed. But she suggested proponents produce a "thorough analysis of the estimated costs and savings and their respective time horizons." She also noted that different municipalities will have different "transition" costs and pressed for specifics.

Was any of that forthcoming?

Kass said "the only analysis" came in the task force report that "was not the most sophisticated analysis."
* And then there's this other pension thingamabob…
"In the spring, we expanded a program to buy out — a voluntary program — to buy out retirees, when they're retiring, at 60% of what their pensions would be," Pritzker said.

"People are choosing to take the money up front. It's saving the state money. In fact, a study was done of what the savings would be and it's billions and billions, potentially $25 billion of savings. And by the way, people are choosing it — almost 20% of people who are retiring are choosing that buyout." […]

As for Pritzker's contention that the buyouts would save the state billions, his spokeswoman said the governor was presented with an independent analysis that came to that conclusion. She declined to provide the study itself or offer any further details about where it came from and what it was based on.

"The governor was referencing a proprietary study conducted by and for an outside organization that he was presented," Abudayyeh wrote in an email. "It determined that pension buyouts, depending on the structure of the options, have the potential to save billions, including as much as roughly $25 billion. The administration has not yet determined its estimate, nor did the governor say that this was the administration's estimate for how much money buyouts are currently saving or will save."

Without access to the study, we cannot confirm if Pritzker's comments square with its findings.
* It's that time of the biennial again, campers…
— Rich Miller (@capitolfax) November 25, 2019
* The live coverage feed was filled with stuff like this…
This morning at 8am my nominating petitions for re-election as State Representative for the 7th District of Illinois were filed at the State Board of Elections headquarters in Springfield. It is truly an honor and a privilege to serve such an amazing district. Thank you all!👊🏾 pic.twitter.com/OMreARWQMk

— EmanuelChrisWelch (@ChrisWelch_JD) November 25, 2019
I'm officially on the ballot for 2020! So thankful for the opportunity to represent the 58th District and hope to continue to earn your trust and support.

Many thanks to the dozens of volunteers who helped collect signatures, especially @joshuadmay!! pic.twitter.com/pWxzWktG3j

— Bob Morgan (@BobMorganIL) November 25, 2019
It's the official launch of the 2020 campaign season.@SenatorDurbin and @BetsyforIL filed their petitions early this morning to get on the ballot.

Party grunts unloaded boxes and binders of petitions.

The second woman in line camped out with her kids since noon yesterday. pic.twitter.com/yGJvSrSK4l

— Mark Maxwell (@MarkMaxwellTV) November 25, 2019
Any time I can reference the fact that @illinoissbe shares a strip mall with a Chuck E. Cheese, you know I will. https://t.co/Ya6Iij8iZN

— Hannah Meisel (@hannahmeisel) November 25, 2019
* From Hannah's story…
Candidate filing begins — The busiest place in Springfield Monday morning will be a strip mall that contains both a Chuck E. Cheese and the Illinois State Board of Elections' headquarters. As is the biannual tradition, candidates for Congress, the General Assembly, judges and other elected offices — or their proxies — will brave the usually cold pre-winter morning to be in line by 8 a.m., or even earlier. Those with petitions ready to hand in first thing Monday have the chance to get listed first among their competitors on the ballot, which studies have shown may have a slight statistical benefit in down-ballot races. For those who aren't willing to stand in the cold for hours, or who still have to finish collecting enough signatures to survive a possible petition challenge, the filing period is one week and closes at 5 p.m. Dec. 2.
* Tribune…
Those in line when the doors opened were eligible for a lottery that will determine the top ballot spot, which some believe is politically beneficial at the polls. When filing ends on Monday, Dec. 2, those candidates in line at 4 p.m. will be after the last ballot spot — also seen by some as a plus on Election Day.

Mary McClellan, a Republican candidate for a circuit judge seat in McHenry County, was the first in line. McClellan, a former McHenry County clerk, said she arrived at about 9 a.m. Sunday.

"I want to be able to show my constituents that I'm committed, and that they'll be represented the same way," McClellan said.

By 7: 30 a.m., hundreds of the people were outside the Board of Elections office in a line that snaked along the sidewalk outside a Springfield strip mall.
* The Question: Your favorite petition gathering or filing day stories?
…Adding… Expected…
Indicted Ald. Ed Burke (14) filed this morning to run for another 4-year term as 14th Ward Democratic Committeeperson — a position he has held since 1968. Burke, who has pled not guilty, refused @cookcodems Chair @ToniPreckwinkle's request to resign last month.

— Heather Cherone (@HeatherCherone) November 25, 2019
* Timing is everything…
House Speaker Michael J. Madigan released the following statement Monday:

"Continuing House Democrats' commitment to comprehensive reform of the laws governing the behavior of elected officials, state employees, and lobbyists, I have appointed Majority Leader Greg Harris and Assistant Majority Leader Kelly Burke to serve on the bipartisan, bicameral Joint Commission on Ethics and Lobbying Reform. Leader Harris and Leader Burke are widely recognized for their ability to work across the aisle to build consensus for significant legislative reforms. As the representatives of the House Democratic Caucus, they will help bring all stakeholders together, lead a thorough review and discussion of existing ethics and lobbying laws, and prepare recommendations for additional reforms by the end of March."

The following can be attributed to Majority Leader Greg Harris:

"Serious reforms to state ethics and lobbying laws will require a thorough and bipartisan discussion on where our current laws are working and where they fall short. I appreciate Speaker Madigan's commitment to bringing key stakeholders to the table for a public conversation on how we can continue to restore confidence in our state government."

The following can be attributed to Assistant Majority Leader Kelly Burke:

"The task of addressing corruption and strengthening lobbying laws is not a Democratic or Republican issue; it must be a bipartisan effort. The Joint Commission on Ethics and Lobbying Reform will allow for a comprehensive and cooperative conversation on an issue of tremendous importance to our state. I look forward to working with my colleagues from both sides of the aisle and the appointees of our constitutional officers to prepare a strong set of bipartisan reforms."
* Last year…
The handwritten Gettysburg Address has just arrived! It has to be left in this case to acclimate to the room temperature before we can get it out. The suspense is killing me!!! pic.twitter.com/cqPqE2T05X

— Glenn Beck (@glennbeck) June 14, 2018
* This past September 20th…
Gov. J.B. Pritzker fired the executive director of the Abraham Lincoln Presidential Library and Museum Friday, marking the latest chapter of turmoil for the Springfield institution. […]

A spokeswoman for Pritzker said they couldn't provide details of the firing.
* Friday…
An Illinois watchdog has determined the head of the Abraham Lincoln Presidential Library and Museum in Springfield violated policy by loaning its copy of the Gettysburg Address to conservative commentator Glenn Beck.

The state's Office of the Inspector General started investigating the loan after it received an anonymous tip that officials at the museum "p*mped out" an irreplaceable, handwritten copy of the Gettysburg Address to Beck for $50,000 last year.

Mercury One, Beck's right-leaning nonprofit, put the rare artifact on display for three days at its office in Texas as part of a "pop-up" museum in June 2018.
* More…
Lowe, the former director of the George W. Bush Presidential Center who took over at the Springfield museum in July 2016, ignored the Illinois Historic Preservation Agency's standard practices for loaning items, according to the inspector general report.

After the Gettysburg Address arrived at its destination in Texas, the Facebook page of Beck's television and radio station, The Blaze, posted a live video showing "Beck and a woman referred to in the video as a curator together lifting the Gettysburg Address out of the crate with gloved hands and carrying it to a table," according to the report. […]

"The people of Illinois are fortunate that the Gettysburg Address and other artifacts ultimately returned safely to the ALPLM in June 2018, despite the risks that were taken," the report says.

In recommending Lowe's firing, the report also noted that he attempted to make two additional loans to Mercury One that never came to fruition, one because the planned exhibit never occurred and one because it was blocked by Lincoln museum staff.
* More…
State historian Samuel Wheeler told investigators that he told Lowe the loan was "inappropriate and unadvisable on every level." Wheeler said that Lowe responded that the decision was already made and that he wanted to know how to facilitate the loan.

Investigators interviewed Lowe, who said he was not aware the Historic Preservation Agency board, which was no longer in existence when the loan was made, had passed a resolution prohibiting future loans of the Gettysburg Address.

Lowe said he knew Beck from the time he was director of the George Bush Presidential Center in Dallas. Lowe said Beck contacted him about wanting to help raise money to pay off the debt that was incurred from buying the Taper collection of Lincoln artifacts. As part of that effort, Beck wanted to mount an exhibit in Dallas that would use Lincoln artifacts. […]

[Chief Operating Officer Michael Little] went to work for Mercury One after leaving the ALPLM in lieu of termination. Little was the subject of another inspector general report that said he left a Lincoln document unattended in the Capitol.
* From the Inspector General's report…
Mr. Lowe's Consulting Business And Advisory Position With Mercury One

On an ALPLM form dated August 17, 2018, Mr. Lowe disclosed that he has secondary employment through his business, Alan Lowe Consulting. Mr. Lowe described this business as consulting related to archives, museums, and public policy centers.

In his position as ALPLM Executive Director, Mr. Lowe is required to annually submit a Supplemental Statement of Economic Interests form to the Executive Ethics Commission.69 In response to a question on that form as to whether he had held any non-governmental position during the preceding calendar year of 2018, Mr. Lowe's response dated April 25, 2019 disclosed that he had held an uncompensated position of "Member Advisory Committee" for "Mercury One American Journey Experience."
Ugh.
There is so much more to this. Just awful on so many levels. Go refill your coffee and marvel at the perfidy of it all.
* Tribune editorial…
Since then, union-heavy states have been enacting laws to weaken the impact of the Janus decision. Which state probably is next to have such a law? You guessed it. Illinois.

Lawmakers during the fall veto session sent to Gov. J.B. Pritzker legislation that would make it easier for unions to recruit members and harder for employees to know their rights under Janus. Public employers — mostly governments — would be required to provide the names, addresses and contact information of their employees, including personal email addresses and cellphone numbers on file, directly to union bargaining units.

The legislation also severely limits the ability of employers to inform their workers about the choice to join a union or not. […]

If Pritzker signs the bill, he will demonstrate once again who actually runs Illinois state government. It's not his administration. It's not the department heads. It's the public employees unions who represent more than 90% of the state workforce. They already have the power. Governor, why give them more?
Always with the hyperbole. I don't recall the editorial board getting upset when the Rauner administration slipped employees' personal contact info to the Illinois Policy Institute.
Also, this bill was mostly just a codification of the contract that Gov. Pritzker's administration negotiated with AFSCME. He ran as an unabashedly pro-union candidate. To call on him to flip-flop now is more than a bit disingenuous.
* Cass County has a population of 12,260 and its largest municipality is Beardstown. I did not know that it doesn't have its own website until today, when I read this story by Samantha McDaniel-Ogletree…
Cass County plans to boost its online presence with the launch of a new website in a few weeks.

The website, which should be available Dec. 1, will house information about the county, government and attractions.

County board member Josh Millard said Cass County is one of only a few counties in the state that does not have its own website.

"Trying to find information on the county is a nightmare," Millard said. "We are one of four counties that didn't have a website."

Work on the website began in January.
* Exelon says it has created a special board committee with its own outside counsel to deal with the federal investigation. But the company will not say who is on that committee and what firm the committee has retained. Steve Daniels at Crain's takes a look…
But the temperature of the water Exelon and ComEd find themselves in arguably is no hotter than that enveloping Wells Fargo when evidence surfaced of employees creating fictitious accounts for customers or, more recently, Boeing when design flaws in its new 737 Max apparently led to fatal crashes.

Both San Francisco-based Wells Fargo and Chicago-based Boeing established special board committees to probe what went wrong. The members and chairmen of those panels were disclosed when they were established.

Wells' special board panel had its own legal counsel, and it identified the law firm. […]

Exelon's refusal to say who is serving on the special board committee on what is clearly emerging as a time of crisis for the company "is a little odd," says Charles Elson, chairman of corporate governance and director of the John L. Weinberg Center for Corporate Governance at the University of Delaware. "You want to let your shareholders know because it shows you're dealing with it in a serious, transparent and independent way."

"They must have a reason," he adds. "What is it?"
Good question. Go read the rest for Steve's take.
* My weekly syndicated newspaper column…
The Chicago Tribune recently reported that Mike McClain, the most prominent insider connected to House Speaker Michael Madigan, sent a blind-copied email to what he called the "Most Trusted of the Trusted" asking for help raising money in the closing weeks of the 2018 campaign.

After thanking them for their work on behalf of "Himself" (presumed to be Madigan), McClain claimed to have reviewed a "magic Excel sheet" and asked for more contributions, which were to be directed to a Madigan person at the Democratic Party of Illinois so their money could be tracked on said "magic" spreadsheet.

Chicago public radio station WBEZ reported the same day that McClain sent a blind-copied email last December to what he called a "Magic Lobbying List." McClain claimed the list was compiled by him and Madigan and the two of them had recently culled the roster to less than two dozen. He asked recipients to contact him if they had turned down any lobbying clients so he could apparently funnel them to other "magic" lobbyists.

The two emails are certainly distasteful, but nothing in either appears to directly violate a law. Every legislative leader has trusted contribution bundlers and favored lobbyists. If you're trying to get close to a leader, it's not too difficult to figure out how. How far that gets you is another matter. But it certainly never hurts to be on a leader's good side, which is why so many people try to do it, particularly with someone who controls the strings as closely as Madigan does.

The difference here is that somebody put this stuff in writing. That is just not done. Ever. And that's why some are wondering what else might have happened.

What's that line from that movie? Oh, yeah: "Gentlemen, welcome to Fight Club. The first rule of Fight Club is: You do not talk about Fight Club. The second rule of Fight Club is: You do not talk about Fight Club."

McClain met regularly with Madigan and he worked diligently to maintain his position as the Madigan's most trusted adviser. The two huddled multiple times a week during legislative session and spoke often when the General Assembly wasn't in session. It was widely assumed that if McClain said certain things he was speaking for Madigan. And so it's not much of a leap to think that the folks who received those emails believed that McClain was once again speaking on Madigan's behalf.

But did it go any further? Was a bill, for instance, kept in committee until a "magic" somebody got a contract? That is the real question. The setup is there, but we're waiting to see if any official steps were taken to further any alleged conspiracy. So far, we haven't yet seen any proof of such a thing. But it sure seems like that's at least one direction this particular branch of the massive ongoing federal investigation is headed.

Another string of McClain emails reported by the Tribune makes one wonder what the "real" Mike Madigan was up to.

Madigan publicly said he believed Alaina Hampton's story about how the brother of his alderman sexually harassed her and even praised her for having the courage to come forward. But McClain actively raised money for Kevin Quinn through a handful of trusted Madigan loyalists, who were encouraged to put him on their payrolls for six months. Quinn apparently did things like monitor committee hearings for the lobbyists via online video and audio, but connected people like those guys can easily find out what happened in committees by talking to staff or legislators. McClain also coached Quinn how to structure his contracts (perhaps to avoid having to register as a lobbyist) and warned him never to speak of this to anyone, lest they all be dragged through the mud.

Publicly, Madigan said and did almost all the right things when the sexual harassment scandals were breaking around him. But was he also quietly taking care of a guy who might have damaging information about his operation, or at least avoiding creating a grudge and a resulting willingness to talk to the "wrong" people?

Madigan also made a big deal of firing his longtime chief of staff Tim Mapes after allegations were made about Mapes' conduct. McClain and others near Madigan helped Mapes try to find a soft landing after he was given the boot. Mapes obviously knew where a lot of bones were buried because he helped bury them.

Needless to say, Madigan needs to fully address all of this. The sooner the better.