* I wanted to do a bit of research for a story I'm working on this afternoon, so I clicked on the bookmark and surfed to the main candidate filing page on the Illinois State Board of Elections' website. Alas, the dreaded "overlay" appeared. If you've ever had to deal with that website you know what I'm talking about. Here's what the page is supposed to look like…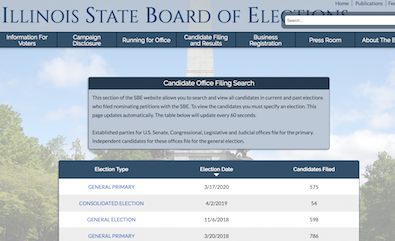 But here's what you see when the overlay mysteriously deploys itself…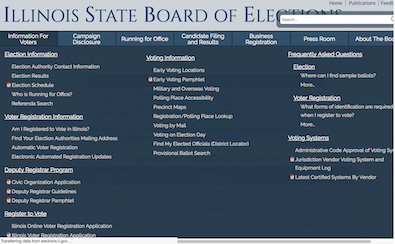 * You cannot make this overlay go away. You can click on the page or try to scroll down, but the overlay prevails. It has to disappear on its own, or you accidentally click on another link and then have to start all over again.
Here's what the page says in the bottom left-hand corner while the overlay is visible…

I decided to wait it out today and activated a timer. After two minutes and ten seconds I accidentally clicked another link while trying to make the overlay go away and my experiment ended.
This doesn't happen every time, but it happens often enough that it DRIVES ME NUTS.
/rant
26 Comments













































































Sorry, comments for this post are now closed.