* Last week, I asked you to help Greta Lindall with her 7th grade science fair project. She and her project partner Orla Byrley unveiled it this week…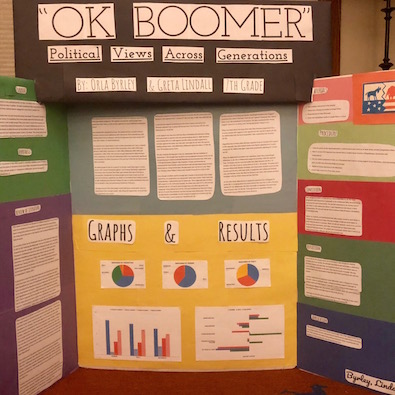 * From the acknowledgements…
We have so many people that helped us with this project. We would like to thank Steve and Karen Stivers, Marty Smith, George Abrahams, Anna Sharratt, Adrienne Alexander, Dave Lowitzki, Ty Petersen and Joanna Klonsky for sharing our survey. And the biggest thank you to Rich Miller from Capitol Fax whose post got over half of the responses to our survey. We would also like to thank our parents, Anders Lindall, Julie Sampson, and Mike and Anika Byrley who have supported us so much throughout the project and our whole lives.
They received 600 completed surveys, so that means over 300 of y'all responded to the call. I really do have the best readers. Thanks for helping those kids.
* A few results from their survey…
When we asked about the Green New Deal, Baby Boomers supported it by a 10-point margin (51% support to 41% oppose) and Gen Xers by 9 points (49-40). But Millennials held the most progressive view, supporting it by 19 points (54-35).

Regarding open borders, Baby Boomers opposed them by 12 points (41% support to 53% opposed). Gen Xers weren't much more liberal, opposing by a 10-point margin (41-51). Millennials again were more progressive, opposing by 7 points (43-50).

When we asked about socialism and capitalism, there was a much bigger difference. In all, 43% of Millennials supported socialism with 53% opposed. That -10 margin was far more favorable than Baby Boomers (32-59, a -27 margin), with Gen X just as conservative at 32-62, a -30 margin. We guess that's because Millennials identify socialism with Democratic Socialist countries like Sweden and Norway with high levels of happiness, free college and medical care, and familiar stores like Ikea, but Boomers and other older people associate socialism with the Soviet Union and the Cold War.

On the other hand, Baby Boomers supported capitalism by a whopping 75 points (82-7). Dropping about 20 points behind that was Gen X, with a 59-point margin (75-16). Millennials still had a favorable of capitalism but much less than Boomers, only +41 (65-24). Total opposition to capitalism almost quadrupled among Millennials versus Boomers.
It's a really well-written report.
*** UPDATE *** Greta has also managed to do the impossible…
OK, the world is obviously ending. Oswego Willy and Lucky Pierre wholeheartedly agree on something pic.twitter.com/y43l4cZszC

— Rich Miller (@capitolfax) December 11, 2019
24 Comments







































































Sorry, comments for this post are now closed.