* Patti Vasquez is a professional comedian and former radio host, so when I saw this filing I just figured that was her stage name…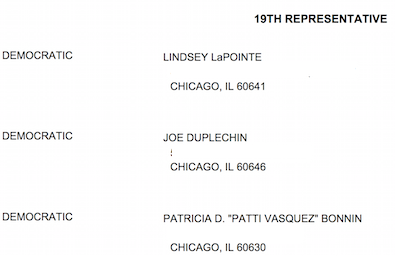 Not gonna be easy to put all that in a mailer, though. It's a lot to remember.
* Not surprisingly, my hunch turned out to be true, but there's a surprising angle to this…
Through 25 years in the public eye, Patti Vasquez has worn a lot of hats: comedian, consultant, political activist, and until June, WGN radio host. Through all of it, she's used her mother's maiden name, Vasquez, rather than her father's surname, Bonnin.

That wasn't a problem until August, when Vasquez, 48, announced her run for the 19th District state house seat currently occupied by Lindsey LaPointe, who was tapped to fill the vacancy in July.

Now, faced with a requirement to use her legal name on the ballot, Vasquez risks forfeiting years of hard-earned name recognition against an incumbent.

Even stickier, her solution — to appear as Patricia D. Bonnin "Patti Vasquez" on the ballot — has led to accusations that she's using two names to pander to different sets of voters: Vasquez for Latinos, and Bonnin for whites.

But the truth is more complicated: Vasquez's half-brother was Michael Bonnin, one of 33 young men killed by John Wayne Gacy — a fact she's kept private until now. At the time of his disappearance in 1979 at age 17, Vasquez was four, living with their shared father and her mother, his second wife, in Norwood Park. When they found his body in the crawl space of Gacy's house, she was seven.

Leading up to Gacy's execution in 1994, Vasquez was just beginning her comedy career, performing at open mic nights around town. "That first summer I did standup was when he was being executed," she says. "It was insane how many comics had a joke about it. There were nights when I had to leave the room."

And so, to detach herself from the Gacy tragedy and not allow it to define her, Patti Bonnin became Patti Vasquez. And when her comedy career gave way to one in radio, the name stuck. "I knew our name was going to be in the paper again," she says. "I didn't want [the murder] to precede every conversation and interview I gave."
Wow.
* Other political stuff….
* Objections filed against two dozen suburban candidates: Two of the three Democratic challengers — Inam Hussain and Mohammed Faheem — who are seeking to unseat 8th District congressman Raja Krishnamoorthi face objections. Catalina Lauf is the lone Republican 14th congressional district candidate in a seven-way primary race to face an objection, according to the Illinois Board of Elections. Democratic congressional challengers Andrew Tarnasiewicz-Heldut and Adam Broad, in the 9th and 10th districts respectively, also saw their petitions challenged. Both incumbent 22nd District state Sen. Cristina Castro and challenger Rae Yawer had objections filed against them. They are Democrats.

* Petition objections fly while Villanueva files for Sandoval's seat: Of the 13 petition challenges filed against Senate candidates, nine were filed in the race for the 40th Senate District, currently occupied by State Sen. Patrick Joyce (D-Essex), who was appointed last month to fill the seat vacated by Toi Hutchinson, who went to work in Gov. JB Pritzker's administration. Joyce is running to retain the seat, along with Legislative Black Caucus Foundation Executive Director Monica Gordon, Chicago Heights City Clerk Lori Wilcox, Kankakee County Democrats spokesperson Marta Perales, and former Rich Township High School District 227 Board MemberDavid Morgan. Cook County GOP Co-Chair Eric Wallace is running as a Republican. Wallace, Wilcox and Gordon each received a petition challenge, while Perales received two and Morgan received a grand total of four. … In the 9th House District, where seven Democrats have filed to replace retiring State Rep. Art Turner (D-Chicago), a challenger named Archibald Walker filed petition objections to four candidates, including Turner's brother Aaron Turner, entrepreneur Sandra "Sandi" Schneller, political consultant Ty Cratic and Nicole "Nikki" Harvey. Harvey also received another petition challenge. Others running for the 9th District seat include Maurice Evans, SEIU Healthcare activist Lakesia Collins and Trina Mangrum, chief of staff to Ald. Jason Ervin (28).

* State Rep. Celina Villanueva files to replace Martin Sandoval in state Senate
4 Comments











Sorry, comments for this post are now closed.