* An unusual objection was filed this week against Republican congressional candidate Bill Fawell's petitions…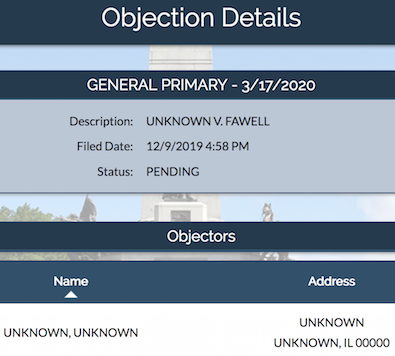 Wut?
* Fawell, you may recall, is a conspiracy theorist who was rejected by the ILGOP last year…
State Republican party chairman Tim Schneider, Rock Island County Republican party central committee chair Drue Mielke, and Republican state central committeeman for the 17th Congressional District, Jan Weber, removed their support of Fawell on Tuesday.

All three officials cite posts on Fawell's campaign Facebook page, Elect Fawell, in which Fawell appears to support 9/11 conspiracy theories, and called some mass shootings "false flag" events.
* So, naturally, he's at it again. Press release…
"Yesterday, the Illinois Election Commission repealed 235 years of legal precedent and accepted as a plaintiff, "Unknown", to contest my petitions to appear on the ballot for Congress in the 17th Congressional District of Illinois in "Unknown vs Fawell," Bill Fawell announced today. "Only in the hopelessly corrupt State of Illinois could government have raised the bar of unprecedented corruption and incompetence to a whole new paradigm." […]

(I)n the entire 235 years of legal history in the United States of America, courts have required there be a plaintiff in all lawsuits and legal actions against persons or entities in accordance with the 4th Amendment, legal precedent and common sense. […]

"I must be a pretty dangerous fellow to attract the national attention of the Republican and Democratic party machines of corruption,… and I am," Fawell confessed, "because I represent the People and support President Trump's Inauguration Promise to return the powers of government back to the People. Clearly, anyone who has attracted the deranged enmity of both parties must be doing something very right."

"Accordingly, my campaign slogans are "People B4 Parties" highlighted by my "Let the People Rule" legislation; and I will never bow nor surrender to the corruption that grips America today," promised Fawell. "This is what scares them into committing desperate acts like this in, "Unknown vs Fawell."

"Clearly We are Winning."
* I reached out to Matt Dietrich at the Illinois State Board of Elections…
This was an objection that was filed at 4:58 p.m. on the final day of filing. During the intake process it was discovered that it did not contain the required identification of the objector. Since it was already time-stamped and entered into the system, our staff decided to leave it and let the board decide its fate. So it will go before the board at Tuesday's meeting and the board members will vote whether to reject it or allow it to proceed.
17 Comments


















































Sorry, comments for this post are now closed.