Oops
Thursday, Dec 12, 2019
* From the Joliet Township Government's Facebook page, with emphasis added…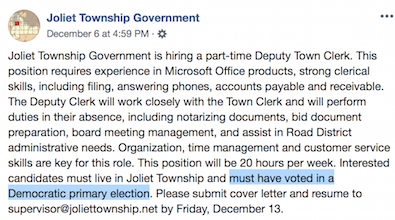 * The Edgar County Watchdogs spotted it and posted about it…
Everyone we showed this job opening announcement to said the same thing: "They can't do that, it violates the law!"

Township Supervisor Vera says the part-time job requirements include: "Interested candidates must live in Joliet Township and must have voted in a Democratic primary election."

We believe Joliet Township is violating the law by requiring prospective employees, such as assistants to the Clerk, to have voted in the Democrat Primary.

Sorry Republicans, Independents, Communists, Libertarians, and even those who decide not to vote at all – there are no jobs for you in Joliet Township.
I reached out to Joliet Township Supervisor Daniel Vera this morning and he told me since the deputy township clerk is "sworn in" and "performs the duties of the clerk in the absence of the clerk," he was under the impression that the post needed to be filled by someone of the same party as the township clerk, who is a Democrat.
But, after the Watchdogs whacked them, Vera said he reached out to his attorney who said the obvious: This is not a Democrat-only job.
"We'll be taking the ad down this afternoon," Vera said.
28 Comments



















































































Sorry, comments for this post are now closed.