* Text message this morning from an Illinois Republican Party operative…
Wanted to pass along that the ISP director who is now assisting in investigation [of the McClain email] is also a recipient of McClain campaign contributions.
The attached screen shot…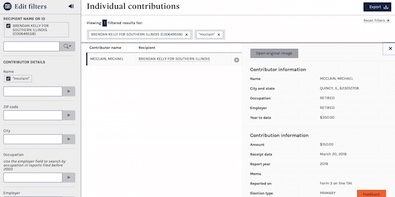 Click the pic for a larger image, but it's $350.
* Senate Republican Leader Bill Brady was the first to call for the ISP's involvement in the investigation, so I reached out to Brady's spokesperson. His response…
Leader Brady trusts the professionals at the Illinois State Police to conduct this investigation in a thorough manner.
* The Question: Should the state police director recuse himself from this probe? Make sure to explain your answer, please.
*** UPDATE *** From ISP Director Brendan Kelly…
Hey Rich,

The donation in question has been donated to the Special Olympics Law Enforcement Torch Run.

I have no personal or professional relationship with Michael McClain and until I read the news I didn't know who he was.

As a State's Attorney for eight years, I enforced the law and prosecuted both Democrat and Republican public officials alike- actually more Democrats- and did so because that's what my oath required.

The professional investigators of the Illinois State Police will pursue violations of the public trust without regard to party or status.

As Director its my job to fight to make sure they have whatever they need to do their job, and that's exactly what the outstanding men and women of the Illinois State Police will do.
I'm told he asked the general counsel's office about this and was told that there's not enough connection to McClain to reach the threshold for a recusal.
24 Comments







































































Sorry, comments for this post are now closed.