* This press release caused quite a stir within the Senate Democratic caucus…
Progressive Leaders Endorse Michael Cabonargi for Clerk of the Cook County Circuit Court
Progressives at multiple levels of government rally behind the only candidate with a vision to bring progressive reform to the Clerk's office

Michael Cabonargi, candidate for Clerk of the Cook County Circuit Court, announced today that he received endorsements from an ever-growing list of progressive leaders who represent the people of Cook County at various levels of government, including the following:

Congresswoman Jan Schakowsky
State Rep. Kelly Cassidy (D-Chicago)
State Sen. Don Harmon (D-Oak Park)
Sen. Iris Martinez (D-Chicago) is also running for circuit court clerk. The Senate President election is this coming Sunday, so endorsing against Sen. Martinez wouldn't have gone down too well in the caucus, no matter which side Martinez is on. Harmon has said he endorsed Sen. Dan Biss in the Democratic gubernatorial primary because Biss was a colleague and he endorses colleagues.
* Harmon's people say he did not endorse Cabonargi, even though he has been a contributor over the years and passed petitions for him. Sen. Martinez told me Harmon also assured her this morning that he did not endorse Cabonargi.
* Cabonargi spokesperson Rebecca Evans…
Mike has appreciated the support and friendship of Don Harmon for a number of years, but his name was mistakenly listed on a large list of endorsements that was announced today. It's since been corrected.
Odd.
…Adding… From an email sent by Democratic Party of Oak Park Committeeman Don Harmon (xxxxx@donharmon.org) in November of last year…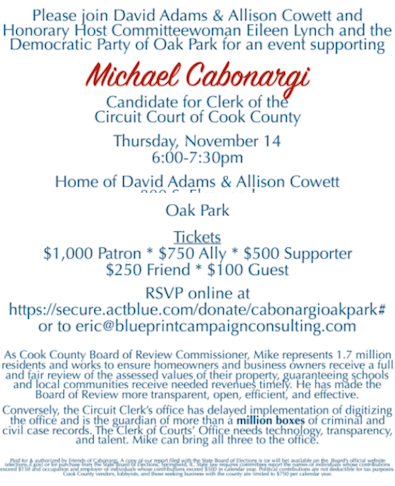 Hmm.
*** UPDATE *** Sen. Iris Martinez just called.
"I'm f—ing pissed," Sen. Martinez said. "He lied to me early this morning," she claimed of Harmon's call to tell her that he hadn't endorsed Cabonargi.
Martinez pointed to the home page of the Democratic Party of Oak Park that Harmon chairs. It lists the county party's slate of candidates, which includes Cabonargi. I explained to Martinez that this was the county party list not the township party list, but she was unmoved.
"It doesn't matter," Martinez said. "I know the games that are being played behind the scenes."
Martinez was furious when Speaker Madigan wouldn't back her bid for countywide office and claimed that Harmon was making "a Madigan move, making sure that I'm not the endorsed candidate."
"I'm just really disgusted right now about this," she said, saying it was "typical of some of these committeemen."
39 Comments




















































































































Sorry, comments for this post are now closed.