* Somebody actually took the time today to print this out and then go to a UPS store in Chicago to send me this fax…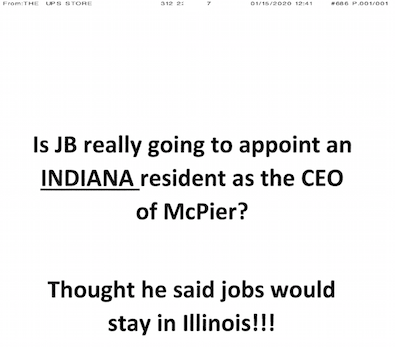 I have no idea about the McPier thing, but I've asked and will get back to you if I hear back.
Also, I am pretty sure the governor has said he would try to convince people to move to Illinois from other states. So, here's to success! A Hoosier could be moving here! Huzzah! /s
And, yes, I still fax the subscriber edition. You'd be surprised how many people still receive them and want them. So, let me be clear: I am not dissing faxes. It's part of my publication's name after all.
It's just that I don't receive many faxes any more. And I cannot remember the last time somebody went to the trouble to send me an anonymous tip via fax. Not a bad idea, actually. Very difficult to trace. Many thanks to whomever sent me this. I'm on it!
20 Comments



























































Sorry, comments for this post are now closed.