* Former Sen. Martin Sandoval (D-Chicago), whose Statehouse office was raided by the feds last year, this week reported receiving a large campaign contribution refund from the Senate Democratic Victory Fund, which is chaired by retiring Senate President John Cullerton…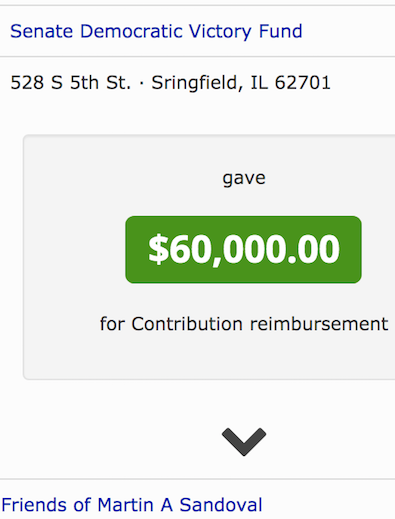 I asked SDVF's political director if this was part of some deal to convince Sandoval to resign. I was told "No." The check was written on January 13th.
Why wasn't the money donated to charity or something? I was told the decision was made by Senate President Cullerton, who has not yet responded.
As we've already been discussing today, Sandoval reported paying $90,000 in legal fees last quarter out of his campaign account, so that $60K refund check will come in super-handy.
The SDVF ended the fourth quarter with $840K in the bank and a whopping $625K in debt. That $60K refund could've also been used to pay off some of that debt before he left office.
I'll let you know if Cullerton responds.

…Adding… According to a State Board of Elections website search, Sandoval has contributed $84,200 to SDVF since 2011. So, this refund represented 71 percent of the money Sandoval gave.
13 Comments






































Sorry, comments for this post are now closed.