* From last September…
An Olympia Fields trustee and former chief of staff for state Sen. Michael Hastings is suing Hastings and the Illinois State Senate for harassment. Hastings, in turn, has filed an ethics complaint against her.

The Chicago Tribune reported that Cassandra Matz filed the suit in June and has filed other complaints with the Equal Employment Opportunity Commission and the Illinois Department of Human Rights.

Matz, who had been a close political ally of Hastings, claimed he harassed her and that he filed his own complaint against her with the legislative inspector general after she confronted him about his behavior.

Hastings's lawyer, the Tribune reported, called the suits "frivolous."
More here.
* Couple of days ago…
An ethics investigation launched last year at the behest of state Sen. Michael Hastings found his former chief of staff engaged in prohibited political activity and misappropriated state resources by using her official email account to conduct personal business.

The legislative inspector general concluded that allegations Hastings made against Cassandra Matz, who worked for him from 2013 until he fired her in 2018, were "factually well-founded" and that her termination was "supported by the facts," according to an investigative summary report.

In a statement Hastings released in response to the report, he said its findings confirmed that Matz, an Olympia Fields trustee, had "repeatedly violated the public trust as an employee of my office," and said he was "deeply disappointed" in her behavior. […]

The office substantiated Hastings' allegations late last year, but deemed Matz's claims unfounded.

Because reports on allegations that are deemed "unfounded" are not made public, even to the complainant, the reasons why the legislative inspector general did not substantiate Matz's claims of harassment are unknown.
If you read the LIG report, Matz made it clear this was not about physical or sexual harassment.
The two were exchanging emails in 2018 "in which they expressed mutual dissatisfaction and frustration with each other regarding employment and supervision issue" according to the report, and Matz wrote "I'm feeling harassed."
Sen. Hastings denied the harassment in a reply, but urged her to follow the instructions on a flowchart posted in the break room about how to file a complaint. He also told her that he had forwarded the entire email chain to the Senate's chief counsel.
In September of last year, the EEOC dismissed Matz's complaint, but she has filed a lawsuit. An initial motion to dismiss was granted, but she has an opportunity to file another amended complaint.
* LIG conclusions…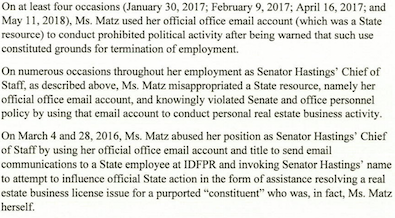 Her response is here.
4 Comments











Sorry, comments for this post are now closed.