* Sun-Times reporter…
Sara Feigenholtz officially selected to take John Cullerton's state Senate seat #twill

— Neal Earley (@neal_earley) January 21, 2020
Rep. Feigenholtz (D-Chicago) was first elected in 1994. She officially loses all that seniority when she moves to the Senate.
…Adding… Press release…
44th Ward Alderman and Committeeman Tom Tunney tonight announced that the Democratic Committee from the Sixth State Senatorial District selected Sara Feigenholtz to fill the vacancy of Senate President John Cullerton. Feigenholtz received significant support at the meeting with committee persons from the 2nd, 27th, 43rd, 44th, 46th and 47th wards voting unanimously to select her as State Senator.

"Sara Feigenholtz has a remarkable track record as an advocate for our community which is why she received overwhelming support from the Committee to become our next State Senator," said Alderman Tunney. "Senator Cullerton leaves big shoes to fill, but Sara has a proven track record as a veteran of the Illinois General Assembly. She has always served her constituents with distinction, and her authenticity and responsiveness to her district is emblematic of what all public servants strive to be. We were hard pressed to think of anyone else who could do a better job than Sara and are eager to see what she accomplishes in the State Senate."

Following the Committee's decision, Feigenholtz was sworn in as State Senator by judicial candidate and notary, Jill Rose Quinn, at a reception at Ann Sather restaurant on Belmont Ave. Feigenholtz will appear on the ballot in the November 3, 2020 election as the Democratic candidate for the 6th State Senate district.

"I am honored to represent the people of this district and thankful for the encouragement from the community," said the newly appointed State Senator Feigenholtz. "I accept the challenge of learning the unique needs of the district and will continue to fight for issues that keep our neighborhoods safe, vibrant and diverse."

Tunney served as Chair of the Committee voting to appoint a replacement. The Committee members voted by weighted vote, according to the number of voters in each ward's 2018 General Election.

"Last night, members of the 47th Ward Democrats unanimously and enthusiastically voted to support Sara Feigenholtz to follow John Cullerton in the State Senate," said Paul Rosenfeld, 47th Ward Committeeman. "Much like John, Sara instinctively understands the core values that our community wants represented. She is ready and able to effectively and emphatically represent the people in this district."
…Adding… Former Senate President John Cullerton, new Senate President Don Harmon and Sen. Sara Feigenholtz…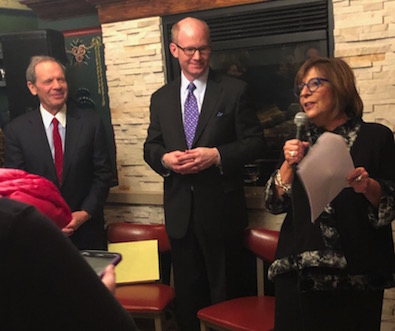 23 Comments




































































Sorry, comments for this post are now closed.