* Tribune…
A Springfield marijuana dispensary is the first in the state to get approval to open a spot for people to smoke weed.

Illinois Supply and Provisions plans to connect the space to its marijuana shop in downtown Springfield. The company is still working on the concept and has not set an opening date.

"It's going to be more than just a big open room where people can smoke cannabis," said spokesman Chris McCloud. "It's going to be well done, it's going to be tastefully done, and it's going to be an experience."

Springfield's city council approved the company's request Monday night to open the space.
* SJ-R…
Chris Stone, a policy advisor for HCI's parent company, Ascend Wellness, said on-site consumption could be ready as soon as April. He said the hope is for the operation to serve as a model for future lounges across the state, though acknowledged that it's very much a "beta test" since the concept has never been tried before in Illinois.

"It's uncharted territory right now as to what we're doing, so we're trying to figure that out and hopefully we can figure that out in the next three to four months and, once again, develop the model by which other lounges are going to be looking to do the same thing," Stone said.

The state law, which gave people 21 and older the ability to legally possess, use and buy recreational cannabis in Illinois on Jan. 1, also allows on-site consumption at dispensaries, though it also gives municipalities the right to ban on-site consumption. […]

"I think having this lounge there gives people who want to smoke still, which I don't how many people even do that anymore, but gives them an opportunity to consume what is a legal product in the state of Illinois," said Ward 8 Ald. Erin Conley, who noted that it could be a prime location for downtown hotel guests to consume the product.
Yep. It's easy walking distance to the two big downtown hotels and several popular restaurants and taverns.
* A photo from Google Maps…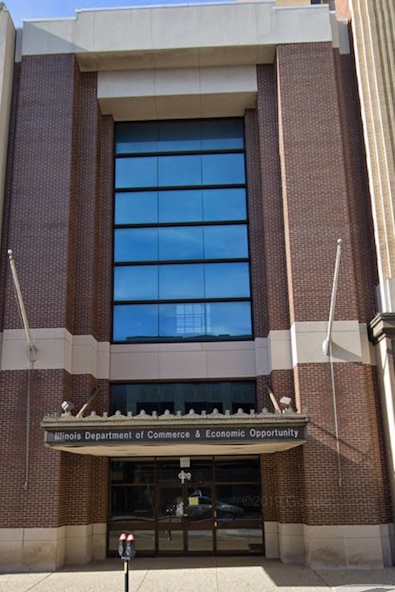 It has a four-story atrium.
* Related…
* A Tale Of Two Markets: How Illinois Succeeded In Rollout Of Adult-Use Cannabis And Why Massachusetts Floundered

* Weeks into legal marijuana, some south suburban police departments have 'more questions than answers' on enforcement: The Illinois Association of Chiefs of Police contends that someone 21 or older who is simply walking around with a plastic bag of pot, provided it's an ounce or less, is in the clear.
23 Comments




































































Sorry, comments for this post are now closed.