* You can click the pics to see the full mailers, but two of Rush Darwish's pieces in the 3rd Congressional District Democratic primary have contained this reference to candidate Marie Newman…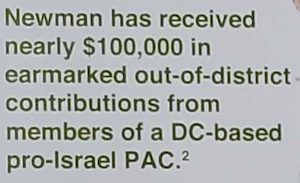 I gotta say, this made me uncomfortable, particularly since the hit was coupled with a slam on Rahm Emanuel, who is Jewish.
* So, I asked the Darwish campaign why the pro-Israel thing was worthy of inclusion. The response…
From our Baseline Survey, conducted late October 2019

If your next Representative in Congress could only have one of the following traits, which is more important to you?

29% A Congressperson who is being supported by Pro-Israel PACs and whose foreign policy reflects this support.

71% A Congressperson whose foreign policy will reflect the views of his or her constituents, keeping in mind that the 3rd District has the largest Palestinian-American community in the United States.

From our Tracking Survey, conducted January 15- 20, 2020:

Marie Newman claims to be progressive, but political insiders like the former head of Rahm Emanuel's SuperPAC are raising big money for her. J Street PAC members have also raised nearly $100,000 for Newman. That's why the majority of Marie Newman's donors are wealthy elites from outside the 3rd District.

More likely to vote for Dan Lipinski: 24%
More likely to vote for Marie Newman: 12%
More likely to vote for Rush Darwish: 33%
Doesn't impact my view: 31%
I reached out three different ways to the Newman campaign and haven't yet heard back.
Your thoughts on this tactic?
37 Comments














































































































Sorry, comments for this post are now closed.