* From Carolyn Schofield, a Crystal Lake Republican who is running against Rep. Allen Skillicorn (R-East Dundee)…
Rich-

I hesitated to send this because I find this mailer extremely offensive not just to me personally but to all women. However, I thought you might be interested as I find this behavior from a sitting legislator sickening. Using a #rape, #sexualharrassment for political gain is pathetic. This went out about a week ago and everyone that I know that received it said it was addressed to the male in the household.

If my opponent were to attend any interview/forum that he were invited to then he would know I have publicly addressed all of the issues he completely lies about on this mailer. I guess if you don't show up to find the truth then he feels justified in spreading lies. Linking me to Mike Madigan (a man who I have never met or said anything positive about) only plays on the statistics that show negative attacks work. This is the tactic he barely won on last time (along with $500,000 of Proft/Rauner money to spread those lies) and he has done nothing as a representative to run on this time. I truly hope the voters of the 66th District do not fall for these desperate tactics.
The best way to fight back is with your own mailers, but Schofield ended the fourth quarter with just $6,000 in the bank and has reported raising $7,500 since then.
* Anyway, here you go…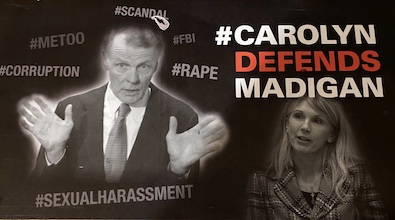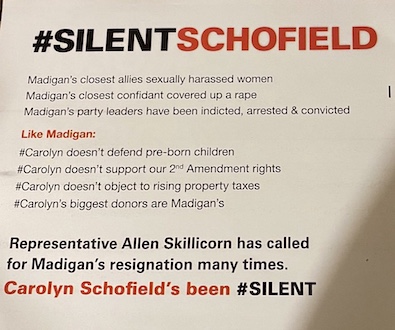 Thoughts?
38 Comments

















































































































Sorry, comments for this post are now closed.