* Daily Herald…
Casey Urlacher, the mayor of North suburban Mettawa and brother of Chicago Bears icon Brian Urlacher, is charged along with nine others in connection with an illegal offshore sports gambling ring, federal prosecutors announced Thursday.

In an indictment alleging one count of participating in the gambling conspiracy and one count of conducting an illegal gambling business, prosecutors say Casey Urlacher worked as an agent for the "illegal gambling business" and recruited gamblers and other sub-agents to the operation.

Prosecutors allege those involved placed bets through a Costa Rican-based gambling platform identified only as "Company A." The operation began sometime in 2016, according to prosecutors.

Prosecutors said Urlacher was in contact with the group's ringleader, 54-year-old Vincent Delgiudice of Orland Park, also known as "Uncle Mick," in December 2018 about setting up an account for a new gambler with a maximum bet of $500 and maximum weekly limit of $3,000.
The indictment is here.
* Sun-Times…
Casey Urlacher denied any knowledge of the gambling investigation when reached Thursday by the Chicago Sun-Times, and he said he didn't know any bookie named DelGiudice. "I don't know nothing about it," Urlacher said. "I don't know who you're talking about."

But the indictment alleges otherwise. It says Urlacher asked Vincent DelGiudice to create a log-in and password for a new gambler on the website on Dec. 16, 2018. DelGiudice allegedly did so, setting a $500 maximum bet, a $3,000 maximum wager for the week and a $1,000 settle-up figure.

On Dec. 21, 2018, Urlacher allegedly gave an envelope filled with gambling debts owed to DelGiudice to Prassas. That same day, Prassas allegedly passed an envelope filled with Urlacher's gambling debts on to DelGiudice with the remark, "This is Casey's."

Urlacher also allegedly asked DelGiudice by phone on Dec. 26, 2018, to shut down a gambler's account until the gambler paid a debt. That same day, after the gambler wired $3,000 to Urlacher, Urlacher allegedly texted DelGiudice and told him to turn the gambler's account back on.
Urlacher lost a Republican primary for the Illinois Senate to Dan McConchie in 2016. I'm guessing this upcoming fundraiser will be at least slightly altered…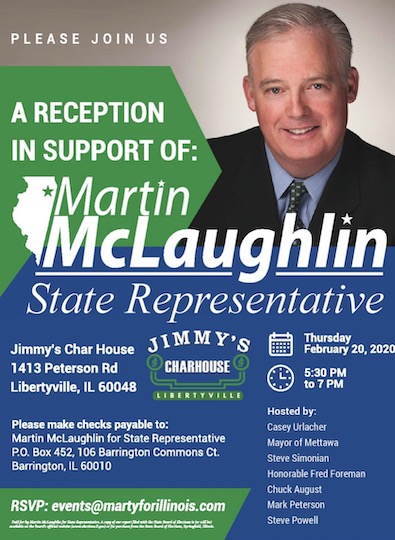 McLaughlin is running unopposed for retiring GOP Rep. Dave McSweeney's seat.
…Adding… Urlacher was appointed to the Illinois Civil Service Commission by Gov. Pat Quinn and is still an active member. Oops.
*** UPDATE *** The governor's office says Urlacher resigned from the commission this morning.
[ *** End Of Update *** ]
* In other news…
When an FBI raid targeted his company's county commissioner last year, southwest suburban factory owner Zach Mottl was "ecstatic."

"I felt like the house fell on the wicked witch," Mottl said. "That's what I felt like. And we were free. The munchkins were free."

Mottl said he felt a target of the raid — Democratic Cook County Commissioner and village of McCook Mayor Jeff Tobolski — had pressured him into making a campaign contribution at the same time his company was seeking Tobolski's backing for a critical property tax break.

And Mottl provided the Better Government Association and WBEZ with an exchange of emails that detail his story.
* And…
A son-in-law of former Cook County Assessor Joseph Berrios is being sued by the Chicago Public Schools, which says he failed to pay "no less than" $366,000 under deals that allowed his company to park cars at 10 elementary schools, mostly for baseball fans going to Cubs games last year.

According to the lawsuit filed in Cook County circuit court, James T. Weiss and his parking business stopped paying CPS last April for the right to park cars at three schools closest to Wrigley Field — but kept charging customers to park there anyway. […]

On Nov. 19, Weiss told CPS his company would no longer be parking cars on school property. That was in a phone call shortly after the Chicago Tribune reported his offices were raided as part of the federal investigation of now-former state Rep Luis Arroyo. Arroyo has since been charged in a federal bribery case involving unregulated video gambling machines.

Weiss — who also owns Collage LLC, which operates unregulated video terminals known as sweepstakes machines — has been lobbying state and city officials to legalize the machines.
10 Comments





























Sorry, comments for this post are now closed.