* Press release…
Today the Democratic Party of Illinois warned Illinois voters about a deceptive mailer being distributed by the Republican Party claiming to be Census questionnaires. State party leaders are urging people to beware of these fake Census mailers that serve to track voters, obtain private information and suppress Census participation.

An accurate Census count is critical for Illinois and fair representation in Congress of all our diverse communities. The mailer recently distributed by the GOP is not an official Census document and uses the Census as a tool for soliciting donations. In fact, this is a paid campaign mailer from the national Republican Party.

"Using the Census a guise to engage voters is extremely concerning and in reality will either scare people away from participating in a real Census questionnaire or collect data on voters the GOP wants to exclude from the November election," Michael Madigan, Chairman of the Democratic Party of Illinois, said. "These are shady tactics from the GOP, and we encourage voters to keep an eye out for this phony Census mailer."

"Communities in the Second Congressional District have a lot at stake in the upcoming Census count and we can bet the GOP would like to scare or intimidate them from participating in this critical count," Democratic State Central Committee member Al Riley said. "We are asking voters to be on the lookout for questionable mailers and alert the state party if you feel you've received anything deceptive."

According to the U.S. Census Bureau, a real Census questionnaire will never ask for:

* A full Social Security number
* Bank or credit card numbers
* Donations or money of any kind

Other tips for spotting a fake Census document include:

* Be sure to check any web addresses for a .gov extension and an https prefix. The site you use should have both of these things and the official U.S. Census Bureau website is https://www.census.gov.
* Any mail you receive should have a return address of Jeffersonville, Indiana – if it doesn't, it's not from the Census Bureau.
* If someone comes to your house, they should have a valid U.S. Census ID badge. If they don't, they aren't from the Census Bureau.

More information about spotting scam Census questionnaires can be found here. If you think a communication you received is a Census scam, please inform the Census Bureau at 800-354-7271 for English or 800-833-5625 for Spanish. When in doubt, you can also reach the Democratic Party of Illinois at 312-578-1554.
* This may be an overreaction, particularly with all the stuff that Madigan has pulled over the years. Click the pic for a larger image…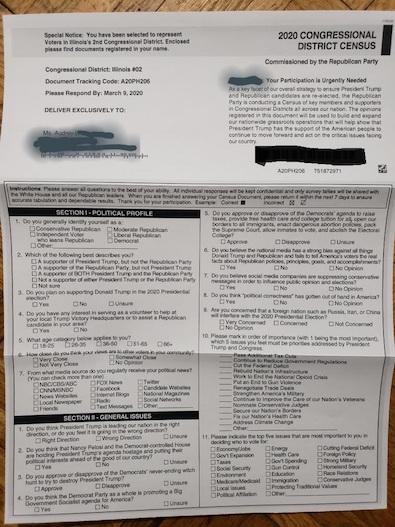 Thoughts?
*** UPDATE *** Sen. Andy Manar (D-Bunker Hill) told me he filed a bill earlier this month after he received a complaint from a constituent about the above mailer…
Amends the Criminal Code of 2012. Provides that a person commits a false personation if he or she knowingly and falsely represents himself or herself to be a census worker employed by the federal or State government, or their regional intermediary, grantee, subgrantee, or temporary volunteer for the purpose of effectuating identity theft or in furtherance of the commission of a felony. Provides that a violation of false personation of a census worker is a Class 4 felony. Clarifies that the offense applies to both false personation accomplished in person or by any means of communication. Effective immediately.
…Adding… With a hat tip to a commenter…
A mailer circulating in Montana labeled "2019 congressional district census" notifies voters "you have been selected to represent voters in Bozeman, Montana," with an enclosed letter that reads, "President Trump has requested that a Census of every Congressional district be conducted immediately."

But the form, one of many sent to residents in at least four counties across the state, is not for the official U.S. census.

It is instead a survey, commissioned by the Republican Party, as written at the top of the form, to solicit donations for President Trump's re-election campaign. […]

The so-called "imitation census" is putting state officials on edge about potentially confusing Montana's more than 711,000 registered voters and by possibly dampening participation in the actual census in 2020, which comes after a tumultuous year for the U.S. Census Bureau.
44 Comments



































































































































Sorry, comments for this post are now closed.