* Gov. JB Pritzker said today at his now-daily news conference that 6 new novel coronavirus cases have been discovered, bringing the total to 25, although some have recovered.
The governor asked Illinoisans to vote by mail instead of voting in-person.
And Pritzker said the CDC released guidance yesterday recommending against events of 250 or more. He said he urged people to "think critically" before attending any large gathering.
This post will be updated.
…Adding… The new cases include a Lake County resident in his 50s. The other five cases are in Chicago and Cook County. They are all in isolation, either at a hospital or at home.
…Adding… The governor said his office has been talking to sports team owners and has reached out to the various leagues to see what they were doing. He also said this…
We're considering all options here. I think if you look back at previous epidemics or outbreaks, that's always been something that's considered. So we're taking a very serious look at that. I mean, as you know, the million people that would have gathered for St Patrick's Day was something that had to be addressed right away. We have the opening days of various teams coming up in the next couple of weeks. And so we want to make sure that we're not only considering all of the options here, but considering what those opening dates are and how it might affect those teams and leagues and the public, most important to me, of course, is the safety of the people of our state and their health. And so I'm continuing to have these conversations and decisions are being made.
…Adding… He was also asked about the Thompson Center…
We're also looking at not just the Thompson center, but other state facilities. For the time being, we haven't issued guidance around that. I do think it's worthwhile for us all to pay attention to the the guidance by the CDC in the concentrations issue, buildings that have hundreds and even thousands of people in them, aren't necessarily buildings that need to close. It's really a question of proximity of people to one another. As you know there's this rule of six feet and 10 minutes. And so we're looking at what that would look like for the Thompson center and evaluating that we'll make some decisions around that and and all the other facilities that we operate.
IDPH Director Dr. Ngozi Ezike was also asked about the Thompson Center…
I don't think the space itself is the problem it's just they are communal gatherings where there are large numbers of people in the very small space at the same time, that could promote transmission. That's what we'll be looking at, people in their cubicles, you know, those are appropriately spaced away that they're not in direct contact with their employees. … If you had a meeting that assembled, you know, 250 or 300 people. That's what we're concerned about not so much people in their, in their offices.
…Adding… Asked if he will support a bill in the hopper to mandate paid leave, the governor said…
Well I am supportive of paid sick leave in general, but I will say that we're looking right now, because waiting for action by legislature is perhaps waiting too long. And so, when people run out of their sick time. What we're looking at is emergency rules through JCAR to activate and delve into our unemployment benefits in the state. We're also seeking from the federal government, the ability to get a waiver from the 'able and available' rule in our unemployment insurance. I think they should be doing that for the entire country. But we're seeking it for the state of Illinois and also asking them to perhaps consider declaring a state of emergency or disaster for the nation around coronavirus which would open up that ability, building on that.
…Adding… Pritzker went off again on the federal government's response…
I've spoken with other governors who are deeply concerned about this. Here's what's happening. We're not getting enough tests. We're not getting enough test kits, we're not getting enough RNA extraction kits which is part of the process of doing a test or the reagent there is a nationwide shortage of this reagent. There is one producer of the reagent. Now this is a result of the CDC having made a decision early on to not let the best research, hospitals and institutions around the United States, develop their own tests, they decided, essentially to reject the ability. Early on, they're now loosening that up because they realize they created a problem. But as a result of the early decision. There was dependence upon this one reagent this one test method. And the result is that we have a limited number of tests now we're using them appropriately. As you know, we test people when they come in with symptoms, they get tested for flu, and for other things before we resort to if they test negative on these other items, but still have the respiratory challenges and the fever. Then we'll go to testing them for COVID-19.

But, the fact that we only have a few of these and need more is indicative of a behavior on the federal government level that is unacceptable to me. So, we're pressing hard. I believe the federal government is hearing it. But I haven't yet seen a reaction here's one of the frustrations for me. Last week, they said to us in response to this question that I posed that by Friday of last week that one of the commercial laboratories, would be starting to issue and produce provide perhaps millions of tests and make those available commercially. And then on Monday. Another of the major testing companies would be doing the same. Well it's now Wednesday. And as far as I can tell it in the state of Illinois, we have none of that. It's not being seen across the nation.

We need a lot more help and you hear very little yesterday, I put in calls to people at the federal government level. And I made sure they understood what my call was about. And I got no return phone call from at least two major officials that I reached out to. Now, I know they're busy and you know I often have heard well, someone's in the Situation Room, or someone's in an important meeting and they can't call the Governor of Illinois back on this subject, but I'm being as loud as I can on the subject and I think that they are going to be reactive to it. I know that many other governors are speaking the same language that I am.
…Adding… He was asked about President Trump…
Well number one that he's taking this seriously because I have not heard that from the President of the United States. There are other people at the federal level who are taking it seriously. And in fact when you go to levels down, you know you talk to the people are actually doing the work. They understand.

But when the President, you know, wears his, you know, red hat in a CDC facility and talks about his own brilliance around being able to do research to determine an answer to this problem. I mean he's not taking it seriously and you see what he tweets about this. His people in his administration have called this a hoax.

We need people to take this seriously. I hope that when he gives an address… that he speaks to the concerns that people all across this nation have, and especially to those of us who are trying to provide the care and take care of the health and safety of the people of our states. Tell us what you are going to do to make the situation better.
This rush transcription is done by Otter, by the way. Sorry for any errors. Moving quickly.
* Meanwhile, you may have seen this graphic online…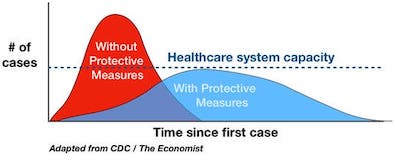 But what does it really mean?
* NY Times…
The ideal goal in fighting an epidemic or pandemic is to completely halt the spread. But merely slowing it — mitigation — is critical. This reduces the number of cases that are active at any given time, which in turn gives doctors, hospitals, police, schools and vaccine-manufacturers time to prepare and respond, without becoming overwhelmed. Most hospitals can function with 10 percent reduction in staff, but not with half their people out at once.

Some commentators have argued for getting the outbreak over with quickly. That is a recipe for panic, unnecessary suffering and death. Slowing and spreading out the tidal wave of cases will save lives. Flattening the curve keeps society going.

Both curves add up the number of new cases over time. The more people reporting with the virus on a given day, the higher the curve; a high curve means the virus is spreading fast. A low curve shows that the virus is spreading slower — fewer people are diagnosed with the disease on any given day. Keeping the curve down — diminishing the rate at which new cases occur — prevents overtaxing the finite resources (represented by the dotted line) available to treat it.

Think of the health care system capacity as a subway car that can only hold so many people at once. During rush hour, that capacity is not enough to handle the demand, so people must wait on the platform for their turn to ride. Staggering work hours diminishes the rush hour and increases the likelihood that you will get on the train and maybe even get a seat. Avoiding a surge of coronavirus cases can ensure that anyone who needs care will find it at the hospital. […]

The difference between seasonal flu and coronavirus is that many people have full or partial immunity to the flu virus because they have had it before or were vaccinated against it. Far more people are vulnerable to coronavirus, so it has many more targets of opportunity to spread. Keeping people apart in time and space with social distancing measures, self-isolation and actual quarantine decreases opportunities for transmission.
* And here's how it worked in real time more than a hundred years ago…
There is a reason for canceling public gatherings. In a pandemic, don't be Philadelphia (held a parade in 1918 when cases started to come up, downplayed cases), be St. Louis (canceled gatherings). More here: https://t.co/KE7RYbxDGM @mlipsitch pic.twitter.com/wyrHx0nOLA

— Florian Krammer (@florian_krammer) March 6, 2020
* More…
42 Comments





























































































































Sorry, comments for this post are now closed.