* One of the wealthiest people in the state just sent out a mass email to Illinois legislators, several of whom forwarded it to me…
From: Liz Uihlein
Date: March 13, 2020 at 12:22:09 PM CDT
Subject: The Media is Overblowing COVID-19


Dear Members of the Illinois Legislature:

There were 1,701 cases in the U.S. of which there were 41 deaths; whereas an overwhelming number of people have been infected with and died from the flu this season.

While you may think the government enforced closing of events, schools, etc. is helping prevent the spread of this infection, you are impacting local, state and national economies and adding unnecessary panic and fear in the American people.

What happens in 2 weeks? Are you willing to indefinitely close institutions? At what point do we go back to our normal lives? This has been a huge disruption.

Sincerely,

Liz Uihlein

President, Uline
Ma'am, we go back to our "normal lives" when this virus is under control. Sorry for the disruption.
* Rep. Jonathan Carroll sent me his response…
Liz,

I guess the professional sports leagues, Broadway Musicals and other gatherings being cancelled or postponed is our fault too? President Trump is about to declare a state of emergency. Is he overreacting?

Your email is so obtuse.

Jonathan
Uihlein and her spouse have contributed $29 million to candidates over the years.
…Adding… Will Jeanne Ives be getting an angry email soon?…
Given the recent reports about the spread of COVID-19, the campaign has made the decision to keep our Election Night celebration small out of an abundance of caution.
…Adding… Another response…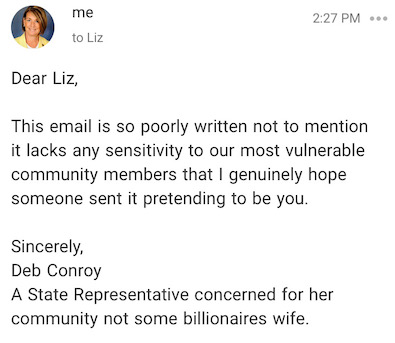 56 Comments







































































































































































Sorry, comments for this post are now closed.