* Times like these bring out the best in some people and the worst in others…
30-year-old [Ro Nguyen] had just watched a movie at a Streeterville cinema with a friend on March 12 and was strolling down East Grand Avenue around 8 p.m., the two of them marveling at the deserted streets.

As they headed toward the Red Line station, Nguyen said a man walking nearby saw them and yelled out, "F— China!"

Then the man spat on Nguyen, he said. The saliva splattered on his jacket. […]

Asian American organizations last week launched the #WashTheHate campaign on social media, highlighting stories of coronavirus-related racism. The Asian Pacific Policy and Planning Council and Chinese for Affirmative Action groups also started collecting reports of incidents of hostility against Asians.
* The Sun-Times ran that goofy Politifact piece we discussed yesterday, but gave it a proper headline…
Fact-check: Postponing primary not in Pritzker's power
* More from the Sun-Times…
A 52-year-old Niles man allegedly charged at police officers during a DUI arrest and coughed on them while yelling, "Now you have the corona!" police said.

Grzegorz T. Kuprowski faces a felony count each of driving under the influence and battery of an officer, according to a statement from Niles police Sgt. Tony Scipione. […]

During a DUI test, Kuprowski became upset with the officers and started coughing on them, saying "get away" and that he had "corona bacteria," Scipione said.
Dude is such a Covidiot that he doesn't know the difference between a virus and bacteria.
* Ugh…
City Hall reports that the Department of Business Affairs and Consumer Protection has fielded 190 price gouging complaints this month, up from only two complaints during the same period last year.

Not surprisingly, most are for household or health items such as toilet paper, tissues and hand sanitizer. Some are related to food and drink, presumably bottled water. BACP evaluates each complaint based on relevant factors, such as prices prior to the Illinois Disaster Declaration and prices at nearby stores, and will impose fines of up to $10,000 per offense.

Earlier this week, Illinois Attorney General Kwame Raoul said price gouging complaints had also ballooned statewide in March.
* Press release…
Illinois Attorney General Kwame Raoul is calling on the country's top online marketplaces to crack down on price gouging amidst the novel coronavirus (COVID-19) outbreak. Raoul joined a bipartisan group of 33 attorneys general, led by Pennsylvania Attorney General Josh Shapiro along with co-leading Attorneys General Hector Balderas (NM), William Tong (CT), and T.J. Donovan (VT), in sending a letter today urging the companies — Amazon, Craigslist, eBay, Facebook and Walmart — to quickly implement preventative measures on their platforms to ensure that consumers don't get taken advantage of during this public health crisis.

"We believe you have an ethical obligation and patriotic duty to help your fellow citizens in this time of need by doing everything in your power to stop price gouging in real-time," the letter reads, in part.

The letter follows an analysis by U.S. PIRG Education Fund which revealed that existing monitoring on Amazon's platform was not preventing significant price hikes. In particular, the price of most of the hand sanitizers and masks rose at least 50 percent higher than the 90-day average. Since then, more than 267,000 Americans have signed PIRG's petition calling on Amazon to protect consumers from price gouging.
The analysis is here.
* Anyone can sue anybody for anything, but if this nurse's claims are true it's totally unacceptable behavior by Northwestern…
A former nurse at Northwestern Memorial Hospital filed a lawsuit alleging she was fired after warning coworkers that masks the hospital provided did not adequately protect staff against COVID-19.

Lauri Mazurkiewicz filed the suit Monday in Cook County Circuit Court, naming the hospital and several employees as defendants, the lawsuit states.

According to the suit, the hospital began accepting and treating patients diagnosed with COVID-19 in March, allegedly exposing Mazurkiewicz and others to the virus.

Instead of distributing N95 masks, which are effective at preventing the wearer from contracting the virus, the hospital allegedly provided staff with "less-effective" masks, the lawsuit claims. The hospital allegedly also prevented its employees from wearing N95 masks.
* Tribune…
Chicagoans were ordered to stay at home starting last weekend and, according to a company grading social distancing, the city's getting an A.

Both Cook County and the state of Illinois have high marks as of Tuesday on the "Social Distancing Scoreboard," an interactive project based on GPS location data collected by the company Unacast that roughly measures whether or not people are heeding the advice of officials to "flatten the curve" of the spread of the coronavirus.

The scores were determined by the change in average distance traveled compared with before the coronavirus outbreak. If residents are staying put aside from the occasional trip to the grocery store or pharmacy, the dip in travel would be apparent in the data.

A more than 40% decrease leads to an A, with grades dropping from there. Anything less than a 10% decrease — or an increase — ends in an F.
Counties scoring an "F" included Effingham, Cumberland, Bond, Union, Johnson, Pulaski, Jefferson and Clark. Grundy scored a "D." Here's the map…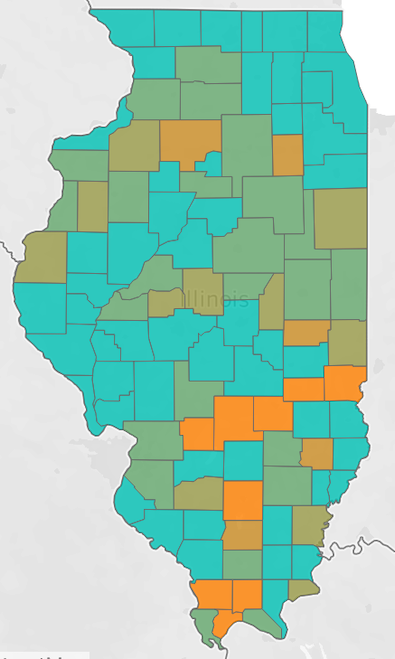 …Adding… And if you need further convincing…
The US is now on pace to have the worst coronavirus outbreak anywhere… pic.twitter.com/GgtcF4788J

— Mark MacKinnon (@markmackinnon) March 25, 2020
More here.
…Adding… Hey, I have an idea. Let's endanger most of our loyal customers…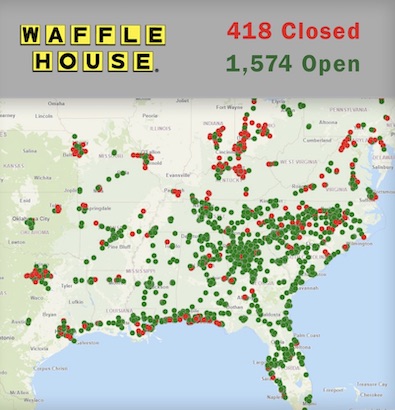 * Related…
* CDC doctor: Rural areas shouldn't let guard down as big cities bear brunt of COVID-19
40 Comments »























































































































This is not Facebook, so uncivil comments, profanity of any kind, rumors and anonymous commenters will not be tolerated and will likely result in banishment.