* The first version of the governor's stay at home order was an unsearchable pdf file. Click here for a searchable version. I'm not quite sure when that went online, but it's very useful.
Speaking of which…
With President Donald Trump pushing to jump-start the United States economy by April 12, even as COVID-19 cases continue to rise nationally, and Gov. J.B. Pritzker saying he's weighing whether to extend Illinois' stay-at-home order beyond April 7, some have been wondering who has the final say locally if there's a difference of opinion.

Examining the nation's federalist system of shared powers, and the 10th Amendment, which affords broad power to states in a public health crisis, "the governor wins," says Lawrence Gostin, a Georgetown University law professor and public health expert. […]

"The legal answer is pretty easy actually. The governor wins – that's the bottomline," said Gostin, the Georgetown University legal scholar and public health expert. He said if a president tried to override a stay-at-home-order it would go to the courts and the president would lose. "States have historic police powers, which means … their primary responsibility is the health, safety and welfare of residents within their states and they have very broad powers."

"The president has no power to go to a business within a state and tell that business to violate state law or state directions. The president has no power to command or commandeer a governor or state control over its people and its businesses. And the fact that the president is suggesting or implying that he does, I think is false. We're not China, and we're not even Italy. We don't have a centralized government that is all powerful."
* The Tribune has a mostly laudatory article on the governor's handling of the crisis and it included this Pritzker quote from last week…
"Every step that we've taken during this crisis, my legal team has understood and laid out our legal authority to do it."
That prompted me to ask for the legal authority to extend the tax filing deadline. From the governor's office…
Filing: IL statute already allowed for an automatic 6 month filing extension – so filing could always be done after 4/15 (up through 10/15). So filing deadline was never really the issue; payment deadline (below) was the issue.

Payment: DOR found that payment deadline automatically extends when there is a federal extension. Regulation 100.6000: Payment on Due Date of Return (IITA Section 601).
Learn something new every day…
If the due date for payment of a taxpayer's federal income tax liability for a tax year (as provided in the Internal Revenue Code or by Treasury regulation, or as extended by the Internal Revenue Service) is later than the date fixed for filing the taxpayer's Illinois income tax return for that tax year, the due date for payment of the Illinois income tax liability due on that return shall be the extended due date for payment of the taxpayer's federal income tax liability.
That happens whenever April 15 falls on a weekend, for instance. So, in reality, the filing deadline had to be extended because the feds did it.
* Meanwhile…
The city's Lakefront Trail, parks and beaches are closed, as well as The 606 Trail, Chicago aldermen said in messages to constituents and social media posts.

"Starting today, all of Chicago's lakefront with its adjoining parks will be closed to the public until further notice. In addition, all fieldhouses, all playlots, all school playgrounds, the Chicago Riverwalk, and the 606 Trail are now closed to the public," Ald. James Cappleman in a letter to constituents said in a letter to residents in his 46th Ward. "These steps were taken to further limit COVID-19 infections due to projection rates that if this stricter stay-in-place order did not occur, we would have upwards of 40,000 residents requiring a hospitalization. This would decimate our healthcare system, leading to many deaths."

It was unclear whether Mayor Lori Lightfoot would close all other city parks as well.

Lightfoot's office did not immediately have a comment Thursday morning. She has a news conference scheduled for 1 p.m.
* As the governor, the State Police and the Illinois National Guard have all said, these "papers" are not necessary…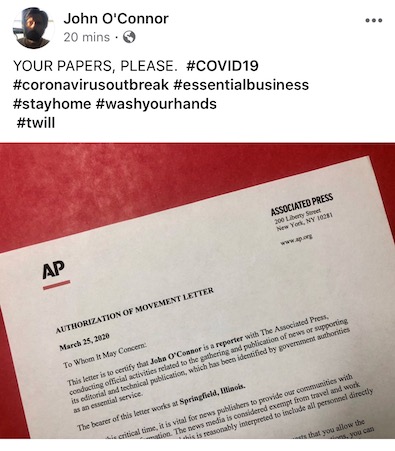 * Other stuff…
21 Comments






























































Sorry, comments for this post are now closed.