* Herald-News…
An inmate at Stateville Correctional Center has died from coronavirus, and the total number of cases in Will County doubled over the weekend.

The Illinois Department of Public Health (IDPH) reported Monday that one inmate at Stateville has died and 100 others at the prison have been hospitalized or isolated because they show symptoms.

The Stateville cases are not included in the coronavirus counts in Will County, where two more people died and the total number of cases reached 224.

Stateville is located in Crest Hill, but the coronavirus cases and deaths that occur there are reported separately from the Will County numbers, said Steve Brandy, spokesman for the Will County Health Department.
* ABC 7's I-Team reached out to the person in charge at the closest hospital, Saint Joseph Medical Center in Joliet and his outlook is quite grim…
The hospital's medical director, Dr. John Walsh, said they have been "overwhelmed" by inmates suffering from the effects of coronavirus.

"This is a disaster," he said. "What I most fear, is that without some resolution, the number of patents coming in from Stateville will be excessive." […]

There are nine prisoners currently on ventilators in the intensive care unit at Saint Joseph, with the other prisoners and patients in need of care. Dr. Walsh said the hospital is "maxed out on staff." […]

Walsh said his concern is that there are at least 100 prisoners still inside Stateville who have fevers. […]

According to Walsh, Saint Joseph Hospital has only a few more ventilators available. He fears that the prison death toll could be in excess of 100.
* On to the Tribune…
To date, Gov. J.B. Pritzker has offered little in the way of specifics on what review process is in place, and IDOC has confirmed a mere six inmates have been released early so far, slowed partly by a rule that released inmates have secure housing. The first death of an inmate was announced Monday, a man who was being housed at Stateville Correctional Center. […]

IDOC, meanwhile, has continued to say little about any specific planned process or an anticipated number of releases, though advocates said they have heard some 100 prisoners could be on a pathway to leaving state custody.

The Tribune on Friday first reported the release of six women housed on a special wing of the Decatur Correctional Center that houses inmates who have given birth while in custody.
Your thoughts?
*** UPDATE *** This is not good…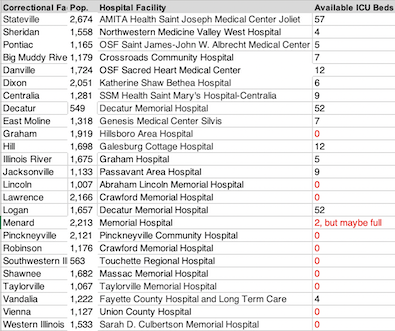 Data was derived from this site.
* Related…
32 Comments































































































Sorry, comments for this post are now closed.