* What could possibly go wrong?…
As dozens of nuclear power plants prepare for intricate refueling operations this spring, they'll be without the usual complement of on-site inspectors from the Nuclear Regulatory Commission, which has told its monitors to work from home because of the COVID-19 pandemic.
* The governor's stay at home order took effect on March 21 at 5 pm…
An Adams County man, in his 20s, recovering from COVID-19 at Blessing Hospital has been linked to two large gatherings, Adams County Public Health Administrator Jerrod Welch said Saturday.

"During the course of a recent contact investigation, the department became aware of a large social gathering, characterized as a party, of an estimated 50-100 individuals that occurred on March 21st in rural Adams County outside of Lima, Illinois," the health department said in a written statement. […]

Welch said the patient was also linked to a party of an estimated 25 individuals that occurred on March 27 in Quincy.
* State and local governments are allowed to restrict or even block access to geographic areas as part of the state disaster declaration…
Some Chicago police officers Tuesday were assigned to check the identification of anyone who wanted to enter four historically violent West Side blocks in an effort to tamp down gang gatherings.

Under the order, issued by Harrison District Cmdr. Darrell Spencer, only people who live on those blocks would be able to enter them.
Think of a massive flood. The authorities don't want people possibly injuring themselves or looting flooded areas, so they bar or limit access.
* But this story now looks like it may be an abuse of power…
Since Tuesday, officers in the Chicago Police Department's Harrison District have been ordered to issue dispersal orders to groups of more than 10 people congregating on four West Side blocks, including the one on West Gladys Avenue where Harrison District Cmdr. Darrell Spencer owns a three-flat.
* And that may be why this official CPD sign at the location is so chock full of misinformation…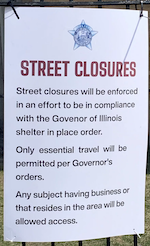 1) There is no actual "shelter in place order," which makes me think the language didn't come from the top;
2) The governor has barred non-essential travel, but he has also said he doesn't want overt police enforcement like this and he has not issued any specific order about that particular neighborhood, so this looks like passing the blame up the food chain to deflect from a possible abuse of local police powers.
[Hat tip: Stacy Davis Gates]
* Let's move on to a press release from the The Chicago Newspaper Guild, which represents reporters at the Sun-Times, Joliet Herald-News and others…
The Chicago News Guild is accordingly calling on public officials at all levels of government to respond in a manner which prioritizes workers' basic needs, demanding they "immediately and indefinitely waive the collection of all rent, mortgage, utility, and debt payments."
I asked the Guild yesterday what possible legal authority that state or local governments have to accomplish these goals. Here's the response…
We want to draw government officials' attention to the difficult circumstances workers across the city, state, and country are facing right now, and push those officials to act in a way that safeguards our basic needs like healthcare and housing. We don't advocate a specific solution or piece of legislation, but are in favor of a response that prioritizes relief for workers and their families.
I replied that the news release looked awfully specific to me. Response…
As a union that represents journalists, the Guild has traditionally avoided making any political endorsements or individuals or legislation. Our membership also includes Cook County Court Interpreters, union organizers and activists with the SEIU and AFT, and a message of solidarity and support for the needs of working people was important to them. But we are not at this time pushing a specific legislative response or mechanism for that support.
Then maybe they need to drop the specific demands.
I'm growing increasingly alarmed about demands from the left that state and local governments should just ignore the state and US Constitutions during this crisis and take unilateral, even dictatorial actions to further their policy agendas. A union representing journalists, who live and die by the 1st Amendment, ought to also acknowledge the 4th and 5th Amendments.
* Yes, traditional legislative niceties were not followed here. Maybe the governor should've given a local legislator a heads up (although I kinda doubt that Sen. Robert Peters got a call before they stood up the McCormick Place field unit), but also maybe the local legislator ought to slightly cool his jets…
The state will buy the former Vibra hospital in Springfield to use as an alternate care facility should area hospitals run out of space to treat coronavirus patients. […]

However, Rep. Tim Butler, R-Springfield, blasted Pritzker for not giving him a heads up about the announcement. He said he was left fielding calls from constituents who heard about the facility but he could not provide them with any details. […]

"I guess they plan to use this for overflow or something," he said. "Does that mean we're bringing COVID patients into Sangamon County from around the state? I have no idea. I think those are the concerns that the people that I represent want to know as well. It's my understanding from the local hospitals they feel pretty confident where they are at right now."
I like Tim. I think he does well for his district. But, right now ain't peak time, Tim. And Springfield has been a regional medical provider for decades. Stoking fears of "outsiders" is irresponsible because outsiders have always been transferred to Springfield. Rural areas for miles around Springfield do not have adequate hospital systems, particularly during a crisis.
* And this Burt Constable piece is for the deniers out there…
At the start of a normal week, Dr. Christopher O'Connor of Hinsdale would be in an operating room at Rush University Medical Center in Chicago, taking care of a patient undergoing surgery. This week started with O'Connor manning a newly outfitted intensive care unit specially designed to treat COVID-19 patients.

"I spent two very long days Monday and Tuesday in this new intensive care unit," says O'Connor, who worked back-to-back 12-hour shifts inserting breathing tubes into critically ill patients and monitoring their conditions. Not only are more patients needing ventilators, but the entire procedure has changed.

"A COVID patient who has viral pneumonia, they are a different animal completely," says O'Connor, a member of the American Society of Anesthesiologists in Schaumburg. "They are more challenging to ventilate." […]

A typical patient might spend two or three days on a ventilator, but COVID-19 patients tend to remain on the machines for 10 to 14 days.
Please, stay home.
No Comments
Be the first to comment.
Sorry, comments for this post are now closed.