* Sorry for the quality of this copy, but it's been confirmed by the administration. Click the pic for a larger image and I'll try to get a better version…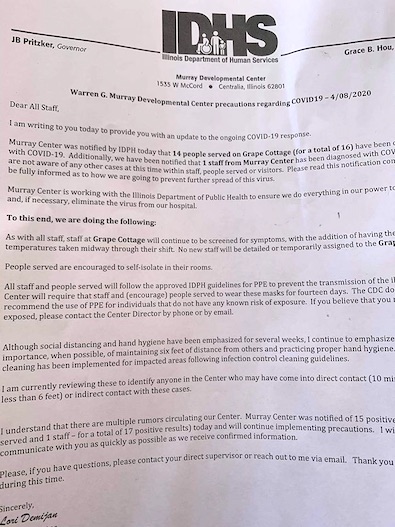 Murray is in Centralia, in southern Illinois. Click here for more info on the facility.
The residents are folks with serious developmental disabilities.
Just absolutely heartbreaking.
* Clinton County Health Department…
COVID-19 DAILY UPDATE
APRIL 8, 2020
CLINTON COUNTY
Is now reporting
16 NEW POSITIVES
*** UPDATE *** CBS 2…
No Illinois health facility has more cases of COVID-19 than the Shapiro Developmental Center in Kankakee. Wednesday there were 50 residents and 19 staff members with confirmed cases for a total of 69 cases. The total number of cases in all of Kankakee County had reached 150, meaning the Shapiro Center makes up 46% of the cases. […]

The next biggest cluster of cases is 29 at the Ludeman Developmental Center in Park Ridge.

Because so many staff members are sick, all time off has been canceled. The state health department has staff dedicated to rumor control online to prevent misinformation on social media.
This is a nightmare.
…Adding… Press release…
Statement from IARF President & CEO Josh Evans: Confirmed Cases of Individuals with Developmental Disabilities in Community Residences and State Centers

"It is with deep sadness and concern that we continue to learn of confirmed cases of COVID-19 in group homes and state centers where individuals with intellectual/developmental disabilities reside. With at least 47 known cases in group homes and five deaths – and with news of over a dozen residents of Murray Center - we grieve with families and guardians that are experiencing loss and we hope for a speedy recovery for those going through this horrible illness."

"Services and supports for individuals with intellectual/developmental disabilities make effective use of social distancing impossible. Frontline staff are needed for activities of daily living, administering medications, and a myriad of supports to help individuals with disabilities have a meaningful day, yet be healthy and safe during this pandemic. Yet for many staff in IARF provider agencies and state-run centers, there isn't access to critically needed personal protective equipment (PPEs), such as masks, disinfectant, thermometers, and robes. We simply cannot get PPE in the quantity we need it to protect residents and staff."

"While we may never be able to quantify, the Association believes the Department of Human Services – specifically the Division of Developmental Disabilities, took quick action that has reduced the spread of the coronavirus and has saved lives. The community service array has received information, guidance, and resources it needs to protect the health and safety of residents and the staff that serve and support them. IARF is proud of the leadership exhibited by this Administration."

"However, despite best preparations, the spread of the coronavirus will continue unless disability and behavioral health service providers and state centers have access to PPE to mitigate that spread. Consider this a call to anyone reading this – in government, outside of government, in supply chains, in our healthcare and social services safety net with any sort of surplus or reserve – we need PPE – we need it to protect our friends and loved ones with developmental disabilities, and the staff that support them – with families of their own. My team and I will do what we can to connect you with service providers in your communities. Please help.
24 Comments







































































Sorry, comments for this post are now closed.