* Ted E. Leverenz was once chairman of the Illinois House's only appropriations committee. There are now six approp committees.
Ted had amazing sources throughout state government, which he then used to his advantage when pressing agency directors about their shortcomings as administrators. He often jokingly referred to himself as "Agent 99," a reference to a female spy on the old Get Smart TV show.
Ted was enormously helpful to me when I first started out. He knew so much and he was such an entertaining fellow, particularly when he was relentlessly grilling those aforementioned agency directors. Ted, then-Sen. Judy Baar Topinka and a few others helped a nobody who nobody sent figure out how the government really worked. I will be forever grateful to them.
Ted eventually moved to the Senate via appointment. He was never happy there. He lost all his seniority and complained about how everyone in the chamber was so old. "Their parking places are wider," he said. "You know why? So they can get their walkers out of their cars!"
* From a Facebook post by his daughter Tracy…
My dad Ted E. Leverenz fought the good fight! Today Jesus carried him home to paradise! April 8, 2020@3:30 pm. Loving husband, father, grandpa and great-grandpa! Heaven is celebrating with joy his homecoming and "Never Had A Bad Day" has a whole new meaning! He was a kind, caring, public servant, who worked tirelessly for the community in numerous ways. He stared in his role as Representative Leverenz then a Senator Leverenz. Politics and helping others were forever running through his veins.
Ted and Rep. Chris Welch never got along well, but when I asked him about Leverenz's passing today, Welch said, "He never supported me in any election, but there's a lot of people in my district who revere the guy to this day."
I think Ted would've appreciated that response. /s
* He sure was a handsome devil back in the day…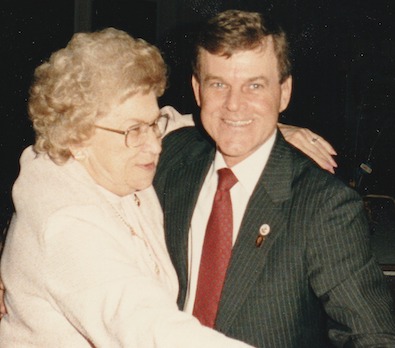 …Adding… More…
Our community has lost a long time public servant. Former State Representative and former State Senator Ted E. Leverenz has died. He served jn the Illinois House from 1975-1991 and in the Illinois Senate from 1991-1993. He was a fighter, and he loved public office. May he RIH🙏🏾 pic.twitter.com/uUuhyuBdRe

— Emanuel Chris Welch (@RepChrisWelch) April 9, 2020
23 Comments




































































Sorry, comments for this post are now closed.