* From an open letter to Gov. JB Pritzker from Republican state Senators Paul Schimpf, Donald DeWitte, Jim Oberweis, Craig Wilcox, Jason Plummer, Chuck Weaver, Sue Rezin and Dan McConchie…
Illinois should start to ease back on some of the more aggressive social distancing measures as soon as the Illinois Hospital Association projects that ICU bed capacity is sufficient to respond to the projected levels of COVID-19 admissions. We are not advocating for an immediate return to normalcy — far from it. But where non-essential businesses or facilities can practice social distancing norms, they should be allowed to operate.
A subscriber read that and texted me this…
How do you advocate for a policy knowing it will put people in intensive care?
He wrote some other stuff, but I'll just leave it at that.
…Adding… Just to be clear here, we've been going over this topic for days and days. But let's just focus on stuff I've posted today.
1) The downward curve doesn't look like the upward curve. Instead, it looks more like a plateau: The decline may not be as fast as the rise
2) Because of (1) we are still essentially at the peak. Forcing the curve downward could take more measures than we currently have in place, like a mask requirement, for instance: Slowing the upward curve is just not enough
3) Calling for even a partial reopening of the economy while new cases are still rising as fast or faster every day with no end in sight is simply irresponsible: SGOP plan is a bit on the ghoulish side
4) Here's the graph that matters most….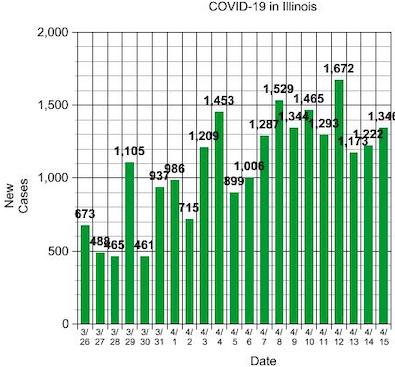 Those new case numbers need to start going down and stay going down for a period of time before anything can and should be done about lifting the stay at home order.
…Adding… 5) Businesses may want to reopen, but, as we discussed yesterday, economies shut down because of the virus. People essentially voted with their feet: "The fundamental problem with the economy right now is the pandemic" not the stay at home orders
76 Comments



































































































































































































































Sorry, comments for this post are now closed.