* As I told you yesterday, Germany was able to get its R-Naught value down to 0.7 from its peak of 1.3 when it started opening up its economy a bit this month.
German Chancellor Angela Merkel, a scientist by trade, allowed small retailers with stores up to 8,600 square feet to reopen. Larger stores were also allowed to reopen if they cordoned off everything beyond the 8,600 square feet limit. Auto and bike dealers, bookstores and other businesses were also allowed to reopen. Some schools reopened.
The whole world was watching in the hope that Germany's so far successful experiment would work.
But then the government announced that the R value had moved almost back up to 1 and Merkel warned the country could start closing down again…
"If we get to a point where each patient is infecting 1.1 people, then by October we will be back at the limits of our health system in terms of intensive care beds," Mrs Merkel added.

"If we get to 1.2… then we will hit the full capacity of our health system as early as July.

"And if it's 1.3, we hit the full capacity of our health system in June. So you can see how little room for manoeuvre we have."
* A quick look at the R0 value…
Pronounced "R-naught," it represents the number of new infections estimated to stem from a single case.

In other words, if R0 is 2.5, then one person with the disease is expected to infect, on average, 2.5 others.

An R0 below 1 suggests that the number of cases is shrinking, possibly allowing societies to open back up. An R0 above 1 indicates that the number of cases is growing, perhaps necessitating renewed lockdowns or other measures.

But R0 is messier than it might look. It is built on hard science, forensic investigation, complex mathematical models — and often a good deal of guesswork. It can vary radically from place to place and day to day, pushed up or down by local conditions and human behavior.
That last paragraph is something to keep in mind.
* Hannah Meisel at the Daily Line has reported that the IDPH Director claimed on Monday Illinois' most recent R0 figure was 1.4.
Gov. JB Pritzker was on WJPF Radio yesterday and broke a little news…
At the beginning of this, there was an estimate by the scientists that for every one person that was infected, 3.5 other people were going to get infected. And that's what it was when we had no stay at home order and this was just a free for all and nobody knew what was going on.

Because of our stay at home order, that number now came down to about 1.25.

So, can you imagine how many people have been kept safe and healthy, out of the hospital out of an ICU bed, out of a ventilator and kept from dying as a result of what the people of Illinois, not me, what the people of Illinois have done for each other, wearing masks, or face coverings staying at home or, you know, staying out of large groups and so on. We've really made a lot of progress.

So having said that, it is time for us to begin to turn the dial up a little bit to allow people to do more, we want to make sure the economy gets better for people more people get to go back to work and that's the the future here. But we just have to be extremely careful.
That's good news, but we're nowhere near where Germany was when it started reopening. And we're still above a level that Germany dreads and not far below the country's original peak.
* Also, as the governor also noted yesterday, hospitalizations are perhaps the most accurate number we have…
Our hospitalizations are somewhat stable. And that, to me, says something really good about the future because, unfortunately, fatality numbers are lagging indicators. Hospitalizations are somewhat a leading indicator, or at least the best tell for how are we doing, are we actually getting this under control or not.
* Back to Hannah Meisel…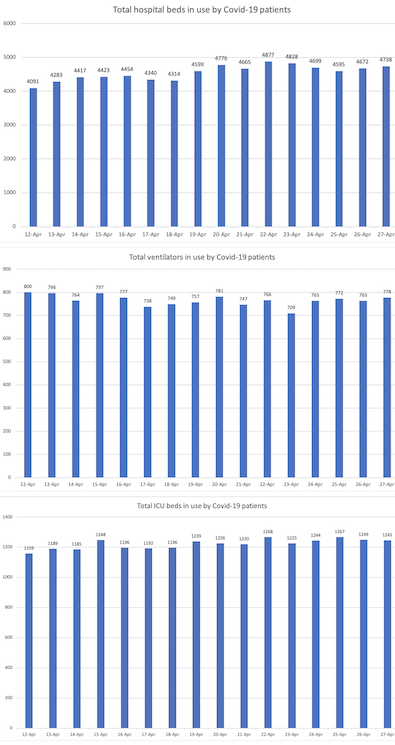 46 Comments









































































































































Sorry, comments for this post are now closed.