* Mike Miletich at WGEM…
Throughout the day, several protesters displayed signs of hatred and racist messages toward Gov. Pritzker. For example, Jackie Fletcher drove over two hours from Morris to participate in the protest. Fletcher proudly displayed a sign "Heil, Pritzker" with a swastika. The Pritzker family is Jewish and started their life in Chicago after fleeing pogroms in Kyiv. However, the protester had "Re-Open Illinois" on the other side of her sign, as "some people get touchy about swastikas."
Ms. Fletcher…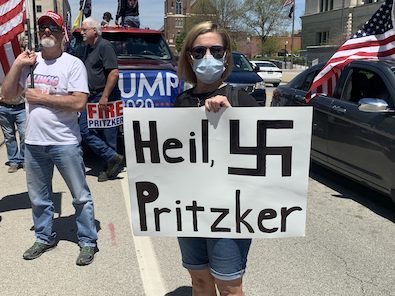 * The Nazis were present at both rallies, as confirmed by the AP. Take a look at the way this Chicago protester twice wrote the letter "B"…
This was one of the signs at the "Re-open Illinois" event today. She assured those that she was not a Nazi, and stated, "I have Jewish friends." Thank you for representing yourself and your "movement" for what it is. pic.twitter.com/CcIX2SVu6s

— Dennis Kosuth, RN (@Dennis_Kosuth) May 1, 2020
OK, now look at the font of the letter "B" on the Auschwitz death camp gate…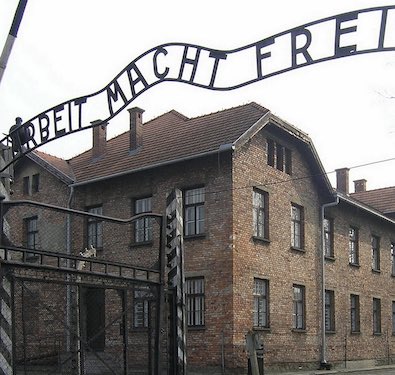 Anyone who took the time to copy that unique, deliberately upside-down Auschwitz "B" onto a sign protesting a Jewish governor who helped build a Holocaust museum knew exactly what she was doing.
* But, for the most part, many of the protesters appeared to be various forms of crackpots…
"Give me liberty or give me COVID-19," read one sign
WBEZ did not make that up…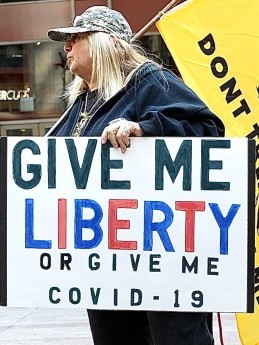 Back to Tony Arnold's story…
Some nurses gathered at the Thompson Center to express support for keeping the stay-at-home order in place. One of those nurses said he was frustrated by the insults hurled at him by some of the protesters, whom he said berated him and offended him with a sign that he said read, "Nurses are Nazis."

"People were telling me that I wasn't a real nurse, that I was a paid actor," said Paul Pater, a University of Illinois at Chicago Hospital emergency room nurse and Illinois Nurses Association board member, who organized the counter-protest. "Some of the things these people say kind of don't make sense because they're worked up in a frenzy. They were saying, 'You're not a hero. You don't have valor. You're stealing valor from the troops.' "
* SJ-R…
Other speakers brought up anti-vaccine conspiracy theories and some held signs that contained symbols associated with the QAnon conspiracy theory.
An example of a QAnon conspiracy theorist is here (profanity alert). She also happens to be the Republican candidate for Congress in the 2nd District.
…Adding… Some have asked what the QAnon thing is about. Click here. But, just be warned, it's a bizarre rabbit hole.
We've already discussed the anti-vax presence in the "movement," but here's an example from yesterday…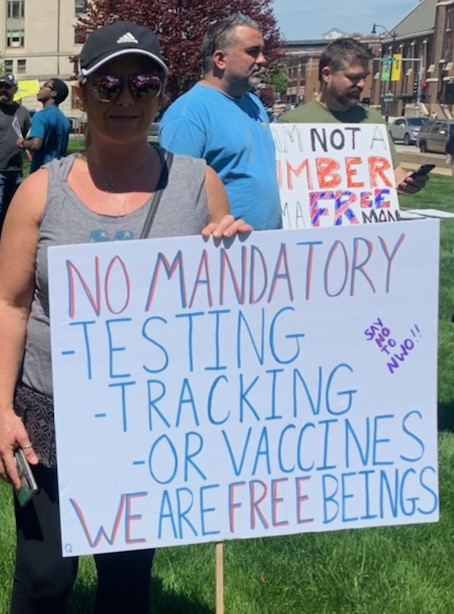 "NWO," by the way, means New World Order. That's a decades-old conspiracy theory dating back to the George HW Bush presidency.
* Back to the Miletich story…
The majority of people participating say they don't care about the state's growing number of cases and deaths. On Friday, the Illinois Department of Public Health announced 3,137 new COVID-19 cases and 105 deaths since Thursday. Illinois has 56,055 cases and 2,457 Illinoisans have died since the pandemic started.

"The people here have taken time to look at the numbers and educate themselves and feel safe enough to go out and do something like this," said protester Elton Wood. No matter what experts say…"It's, it's, it's the greatest hoax in the history of the world," said Theresa Johanson. "Not that it's not killing people. Yes, but I think it has an end goal that's not something any of us want."
An "end goal"? These folks can apparently convince themselves of just about anything, except for, you know, reality.
* Related…
* Auschwitz Museum condemns Reopen Illinois protester's sign seen at Chicago rally
No Comments
Be the first to comment.
Sorry, comments for this post are now closed.