* From the Anti-Defamation League…
Extremists and conspiracy theorists often use protests or rallies to spread their beliefs, but the pervasiveness and extensive media coverage of lockdown protests – which actually represent a minority opinion – has created an irresistible public platform.

There is ample evidence of extremists using these rallies to broadcast their beliefs. Members of the Three Percenters, a wing of the anti-government movement, attended events in Michigan, Oregon, Kentucky, Ohio, Illinois and California
* What are Three Percenters?…
A wing of the militia movement that arose as part of a resurgence of the militia movement in 2009. The term "Three Percenter" refers to the erroneous belief that only 3% of colonists fought against the British during the Revolutionary War—but achieved liberty for everybody. Three Percenters view themselves as modern day versions of those revolutionaries, fighting against a tyrannical U.S. government rather than the British. With anyone able to declare themselves a Three Percenter, the concept allowed many people to join who were not suited, physically or by inclination, to engage in paramilitary activities. The Three Percenter logo—the Roman numeral III—has become very popular among anti-government extremists.
* So I asked the ADL what evidence they had that those folks were at an Illinois rally. They referred me to this tweet. Check out the Roman numeral III on the rally sponsor's sign…
.@KashJackson2018, the Libertarian Party's candidate for governor in 2018, is here as well. Still not happy with how he was treated during that campaign. #twill pic.twitter.com/zihCIl4GBD

— Brenden Moore (@brendenmoore13) May 1, 2020
Every politician who spoke at the rally stood in front of that sign, including Kendall County GOP Chair James Marter, Rep. Dan Caulkins and Rep. Darren Bailey.
* Orphans of the American Dream has a podcast and a Facebook site. Here's its logo…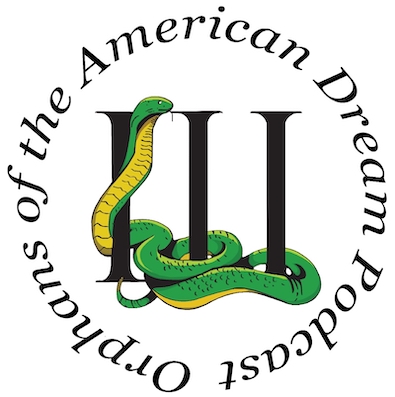 * From April 27th…
The Reopen Illinois rally was organized on Facebook by Orphans of the American Dream. Participants want their voices heard as Governor JB Pritzker extends the stay-at-home order on May 1. Pritzker announced changes coming to his executive order during a press conference Thursday afternoon.

"We've honestly been watching the press conferences from President Trump and Governor JB Pritzker and just been getting more and more infuriated every time we watch them," said Matthew Walder who organized the rally. Walder was happy with the turnout, despite the rain. "I can't even imagine if it was nice out, how many people would be here." A similar protest took place at the Capitol on April 19 as part of the national Operation Gridlock.

Walder hosts a podcast for Orphans of the American Dream, but he says this isn't a partisan issue. "I think this is medical tyranny and our economy is about to crash, let's be frank. That's what we're worried about. There are businesses that are probably closed off now that probably won't open again, and that's a travesty," Walder said.
I've reached out to the group via Facebook. I'll let you know what they say.
…Adding… From comments…
I'm one of the hosts of that podcast you speak of. We are not actually associated with any militia groups whatsoever. We are a news podcast and social media page. Just 3 guys who like to talk about politics. Listen to our show and you will find the facts. Thank you
Just III guys.
34 Comments





































































































Sorry, comments for this post are now closed.