* House Amendment 5 to SB2135 added some new language today…
In times of pestilence or an emergency resulting from the effects of enemy attack or threatened enemy attack, members may participate remotely and cast votes in sessions, by joint proclamation of the Speaker of the House of Representatives and the President of the Senate, and committees of either the House of Representatives or Senate may participate remotely pursuant to the rules of the chamber. The House of Representatives and the Senate shall adopt rules for remote participation.

The rules of the chamber may require that a quorum of the members is physically present at the location of the session or the committee meeting. As used in this Section, "participate remotely" means simultaneous, interactive participation in session or committee meeting by members not physically present, through means of communication technologies designed to accommodate and facilitate such simultaneous, interactive participation and where members of the public may view such meetings or sessions. This subsection (b) is inoperative on and after June 1, 2022.
Interesting that the rules "may" mandate a physical quorum.
[Hat tip: Amanda Vinicky]
*** UPDATE 1 *** After what seemed like days of debate, the full bill fell short and is now on Postponed Consideration…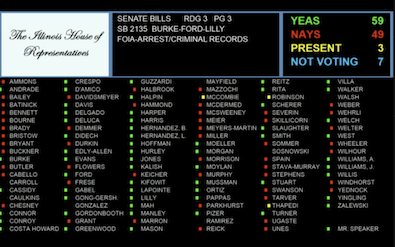 More…
Dems who voted no:

Ammons
Bristow
Buckner
Flowers
Meyers-Martin
Stava-Murray
Tarver
Yednock

— Hannah Meisel (@hannahmeisel) May 23, 2020
Five Black Caucus members (Ammons, Buckner, Flowers, Meyers-Martin, Tarver) three Downstaters (Ammons, Bristow, Yednock) and suburbanite Stava-Murray.
Rep. Lamont Robinson voted "Present." Rep. Delia Ramirez did not vote. All other Democratic non-voters have excused absences.
*** UPDATE 2 *** The bill has been amended to remove just about everything except keeping some zoological parks open without charging the public.
*** UPDATE 3 *** I gotta slow down. The bill was amended, but everything is still in it and the zoo stuff has been changed.
*** UPDATE 4 *** Argh!!! The FOIA language has been removed. Remote voting and everything else is still in. I may have a small glass of red wine.
*** UPDATE 5 *** OK, I'm gonna walk away from my computer for five minutes. Remote voting is OUT. Oy.
18 Comments





















































Sorry, comments for this post are now closed.