* This is about as close to a miracle as you're gonna get. Lots of people worked very hard to get this done. On to the Senate…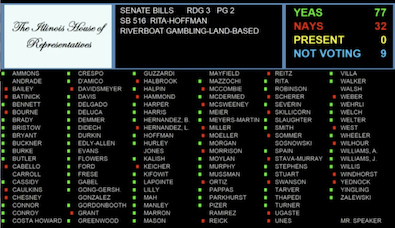 * A bit more info…
Breaking: the Illinois House approves a Chicago casino. The measure also includes a sort of 'insurance policy' for the city of Danville to submit a second application if the Gaming Board rejects the initial proposal.

— Mark Maxwell (@MarkMaxwellTV) May 23, 2020
There were so many moving parts to this. The negotiators really did a remarkable job.
…Adding… From the pool report…
Rep. Rob Rita is the sponsor of this casino plan that passed out of the House Executive Committee last night. Floor amendments 5 and 6 were quickly adopted. Amendment six made technical changes to the Danville Casino and Chicago tax rates. Amendment #7 moved out of Rules committee quickly. This would move the application deadline for sports betting licenses back one year (2021). This amendment is also quickly adopted on the floor. Members than pause action for a break and several small groups gathered on the floor. (Rita joined several House Republicans) […]

Amendment #9 was adopted for the casino bill. This moves the deadline for fees from casinos and race tracks to July 2021, instead of this year. Rep. Tim Butler says he appreciates Rita's hard work on the bill. Rep. Wheeler also thanks all of the staff who worked on the massive gaming bill. Rep. Hoffman recognize the amount of work the General Assembly has put toward gaming bills over the last year. "If you voted for the bill last May, you should be voting for this." Rep. Moylan asked about revenue sharing in this bill. He says the city of Des Plaines needs some relief. He is mad that isn't included in the bill. Several other lawmakers thanked Rita for his work with staff on the bill. The House passed SB 516 on a 77-32 vote. The measure now moves to the Senate for approval.
…Adding… A few deets from Ryan Keith…
Chicago Casino:

· Changes the initial 33.3 percent AGR tax to new structure

Reconciliation payment:

· Changes reconciliation payment schedule for casinos from 2 years with interest to 6 years without interest

Moves up new table game tax rate to July 1, 2020, from when the first new casino opens in the original bill

Danville:

· Allows IL Gaming Board to extend the casino application period for six months if a license isn't granted. [Clarified further in a recent amendment.] Had originally been introduced as SB 3686 by Sen. Scott Bennett

State Fair

· Requires Department of Agriculture to purchase one or more terminal operators to place video gaming terminals at the Illinois and Du Quoin State Fairgrounds.
It also cleaned up/delayed some sports betting deadlines at the request of the Illinois Gaming Board.
13 Comments






































Sorry, comments for this post are now closed.