[The following is a paid advertisement.]
The Illinois Kidney Care Alliance (IKCA) would like to express its appreciation to all of the Senators and Representatives who supported and approved the creation of the Kidney Disease Prevention and Education Task Force.
The task force that was orginally included in Senate Joint Resolution 49 will study chronic kidney disease, transplantations, living and deceased kidney donations, and disparity in affliction rates between Caucasians and minorities. It will also develop a comprehensive plan focused on early detection, preventative screenings and health equity to help reduce the burden of kidney disease throughout the state.
On behalf of the entire coalition, IKCA would like to thank our Illinois legislators.
For more information, follow us on Twitter, like us on Facebook, or visit our website.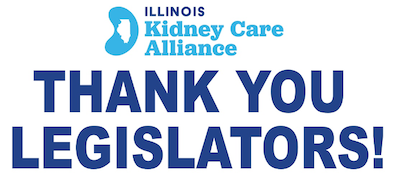 - Posted by Advertising Department


No Comments
Be the first to comment.
Sorry, comments for this post are now closed.