* I love this country…
Edwin Ramirez, the 15-year owner of 201 Stylez on Park Avenue [in New Jersey], has rolled out "Shields on Wheels" to help keep clients and their barbers safe during a cut.

Ramirez, who was forced to close his barbershop in March, came up with the idea for a plexiglass shield while working at a carpentry shop he also owns, Pix11 reports.

The shield contains a cutout large enough for the barber to fit their hands and tools through, and is on wheels, so the barber can work around a client's head.

Ramirez is working on a concept for hair salons and has already been contacted by other barbers looking to order a set of shields.
* Here's the prototype…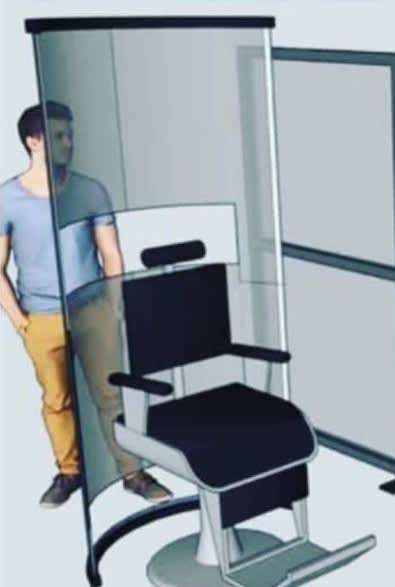 Click here to watch a video.
* And I've always been partial to Amsterdam…
A Dutch restaurant has come up with an idea on how to offer classy outdoor dining in the age of coronavirus: small glass cabins built for two or three people, creating intimate cocoons on a public patio.

Waiters wear gloves and transparent face shields, and use a long board to bring dishes into the glass cabins to ensure minimal physical contact with customers.

While the concept is currently being trialed only for family and friends of staff from the ETEN restaurant, which is part of the Mediamatic arts centre, it certainly looks glamorous, as diners enjoy candle-lit meals with a waterside view.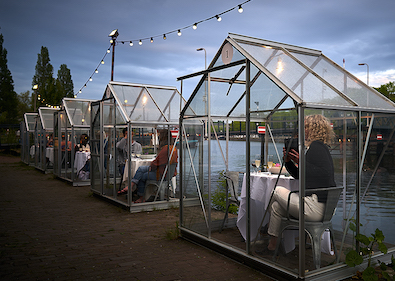 * The Question: Do you have any ideas to make public spaces and services more accommodating? They don't have to be brilliant inventions. Just stuff you've noticed over the past couple of months that could be improved or changed.
36 Comments











































































































Sorry, comments for this post are now closed.